Cancun & Puerto Morelos
Cancun Fitness
Feel better and look better: explore the fitness options Cancun has to offer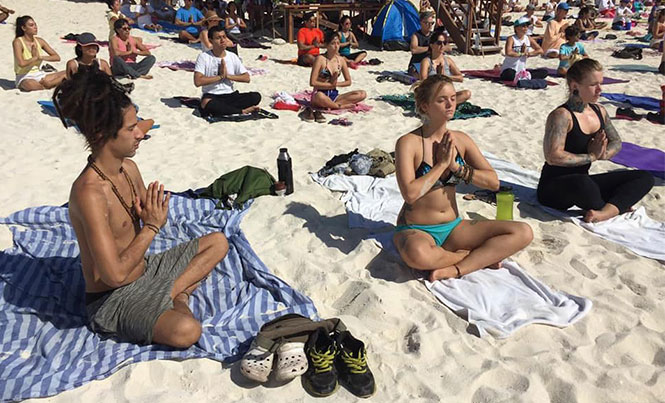 Mexico is a country of contrasts; we are simultaneously in the top three for obesity and we have the biggest fitness industry in this continent. The internet is helping to raise awareness about these issues and how to lead a healthier life that includes eating better, sleeping better, and of course, keeping your body in good shape.
For me and for many people in Cancun and on the Riviera Maya, working out is not so much about how it makes you look but how it makes you feel. That's the important part about being fit, it's a way to connect with your own body and understand it better; it helps to release all the stress and it's a very therapeutic activity. Cancun offers a wide range of options that go beyond weight lifting, into a more mindful, even fun experience.
Yoga De Todos is an amazing opportunity for new people in town to get in touch with the yoga community of Cancun. It doesn't matter if you are experienced or new to yoga, you will be welcomed. All their sessions are for free and the meeting point is at Malecon Tajamar every Saturday at 6:30 pm. Yoga de Todos is focused on hatha yoga, which targets  increased strength and flexibility. Some of the teachers have their own schools; once you meet them you can learn more or specialize in another discipline.
Cuxil Baxal also has a free yoga school among other activities, such as gymnastics, taekwando, volleyball, and even boxing, with a fantastic Cuban teacher.
Expo 4fitness Cancun took place with great success on September 23 at the Tec Milenio University. This event brought together the best national stars of something that's become very popular in recent years: dance and combat fitness. But what is this? A mix of tae bo, aerobics, dancing and tons of fun. If you are not familiar with it, come see them at the sports dome at Las Torres Ave (Cancun's 510 Area). Mondays at 8:00 pm are introduction nights.
What are you waiting for? Let's sweat the stress away!