Health & Fitness
Benefits of the Beach
In Playa del Carmen we have numerous free wellness options available to us thanks to our proximity to the beach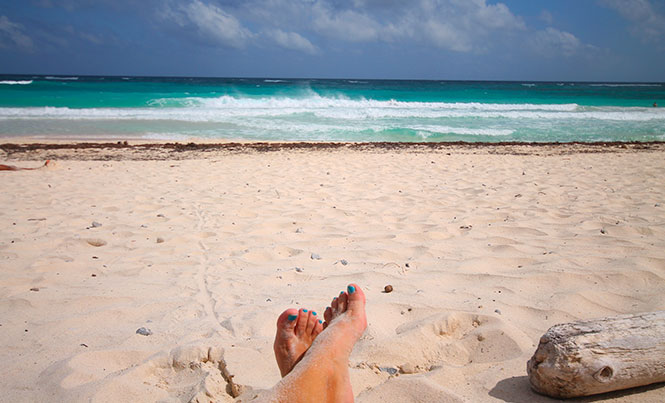 You may have heard the phrase "The cure for anything is saltwater; sweat, tears or the sea". Let's focus on that last point. The beach, after all, is why many of us chose to make Playa del Carmen our home.
The benefits of going to the beach are numerous, whether you are spending the day with family or friends or going for a walk alone. The best thing, of course, is that it's completely free!
Feel grounded in nature
Grounding is the practice of putting your feet on the earth and connecting with nature. You can do this on grass, in a forest or by a lake of course, but why not use the beach here? Feel the sand between your toes and the water lapping at your feet. There are few better sensations of wellness and connection.
Breathe in the salty air
We naturally tend to breathe more deeply when at the beach due to the quality of the air. Ocean air is actually charged with negative ions, which enable us to absorb more oxygen. Salt-infused air has been shown to benefit many respiratory ailments and around the world, salt inhalation chambers are increasing in popularity. Aren't we lucky that we can enjoy these benefits for free?
Wellness from the water
Thalassotherapy is the practice of using seawater for wellness and health benefits. Seawater is high in an array of minerals and elements such as sodium, magnesium, calcium, iodine and sulphates etc., which can be absorbed by the body. Seawater can also provide relief from a number of ailments and also increase wound healing, provided the water is free from bacteria.
The best beaches in the area may be a short drive out of town, but well worth it to escape the crowds. Enjoy!
Sara Jones
Spa, Wellness & Lifestyle Expert, Spa Consultant and Founder of Spa & Wellness MexiCaribe magazine