Discover Mexico
All Revved Up with Somewhere to Go at Piston Pueblo
An adrenaline-filled day in a great jungle setting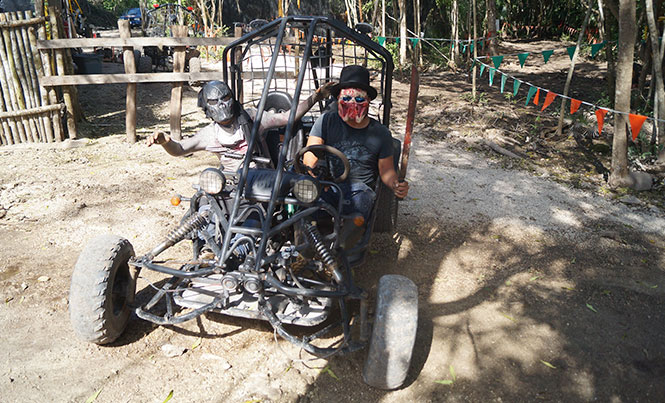 I recently spotted a billboard advertising a motorsports theme park, so we decided to have a day out at Piston Pueblo, located just off the Playa to Cancun highway. Exit as if you are going to Moon Palace, the entrance is right before you go down the road to the hotel.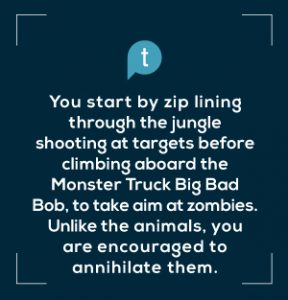 You can choose to do the full-day package or select individual activities. Being the greedy sort we went for the full day which gives you the option of repeating any of the activities, if you should so desire, and a meal of burger, French fries and a soft drink. For obvious reasons they do not sell alcohol and you must turn up sober.
Our day began with an informative and fun briefing from Luis who informed us of the rules.  Number one: do not to kill any of the many species of animals who inhabit the jungle setting. Rule number two is do not crash the cars, while number three is to push the gas a little when you get to the oasis on the ATVs. With this advice ringing in our ears we set off on our day out.
You start by zip lining through the jungle shooting at targets before climbing aboard the Monster Truck Big Bad Bob, to take aim at zombies. Unlike the animals, you are encouraged to annihilate them.
Next was the ATV driving experience. You can choose to drive or be driven. The 1000cc vehicles fly on the exhilarating jungle track and I guarantee you will get soaked if you follow rule number three.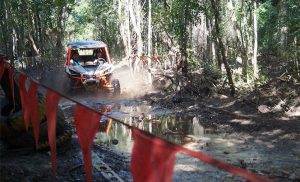 The final activity of the day for us was driving the 200cc Dirt Go-Karts. All the activities are great fun.
Piston Pueblo opened in March 2017 and employs 29 friendly staff, including Cristhian and Roberto who were on hand whenever we needed them. For more information, head to their website Pistonpueblocancun.com. I would advise taking plenty of mosquito spray and some money for tips for the staff.
If you have a resident's card you get a discount, but The Playa Times has been given a discount for those of you not in possession of said card. All throughout 2018, if you take this article or a picture of it on your phone, you will receive a 10% discount.
Disclaimer: No animals were harmed on our day out, although several zombies were