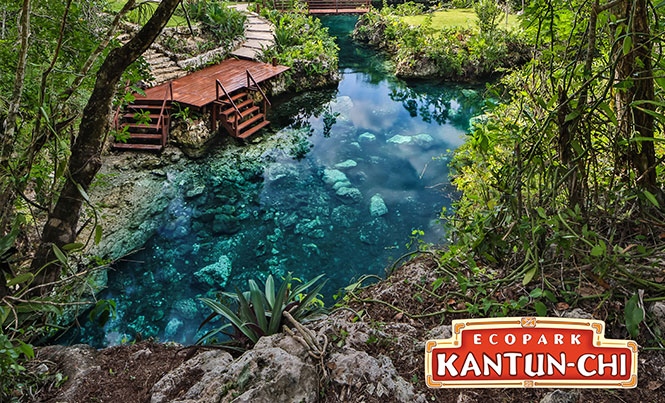 An exotic and relaxing paradise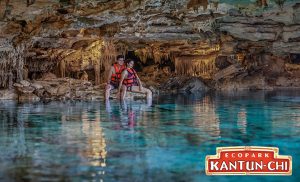 Kantun-Chi is an exotic and relaxing paradise nestled in the jungle of the Riviera Maya. This eco-destination surrounds the senses of its visitors with stunning bodies of water and the soft murmur of its forest.
Located 20 minutes from Playa del Carmen towards Tulum of the federal highway this destination allows us to observe, understand, and enjoy the beauty of different cenotes (sinkholes) and underground rivers that are located there and the importance of its preservation for us today.
Travelers who visit their underground rivers are captivated with the blue color of its crystal clear waters and ancient rock formations, resulting in an overwhelming environment found in very few places in the world.
Enter your senses and enjoy to its fullest the eco-cultural tour magic waters. Following paths through the jungle, you will reach five incomparable natural wells of crystal clear waters full of life that still retain the mysticism and natural charm that the ancient Maya saw in them. Five cenotes (sinkholes) in one place!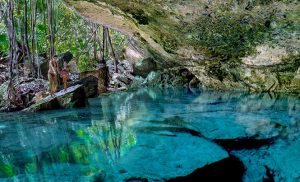 In its interior, you can admire the beauty of nature in every corner of the park, contemplate its wild fauna such as different herds of coatis and howler monkeys that will guide you on the trails through the jungle making you feel in a unique natural environment.
GRUTAVENTURA is without a doubt one of the most beautiful KANTUN-CHI places. Here you can discover different formations of speleothems inside a completely natural, well-lit underground river. Here you will venture into the Maya underworld, and understand the importance and value of our natural environment while at the same time you can relax your body and mind at every step you take inside the cave.
At the end of your journey through different bodies of water and after swimming and exploring every corner of KANTUN-CHI, you can reinvigorate in LOL-HA restaurant, where you can taste fresh typical dishes to pamper yourself.
KANTUN-CHI has a unique place where you can have your wedding, located at the edge of a natural well, surrounded by great beauty and nature that will be witnesses of that important day for you.
And open cenotes that reveal themselves as a small paradise, hidden and private and the interior of the park, with its crystal clear water and vegetation, will become living witnesses to your intimate and special event.
https://www.facebook.com/kantunchi/