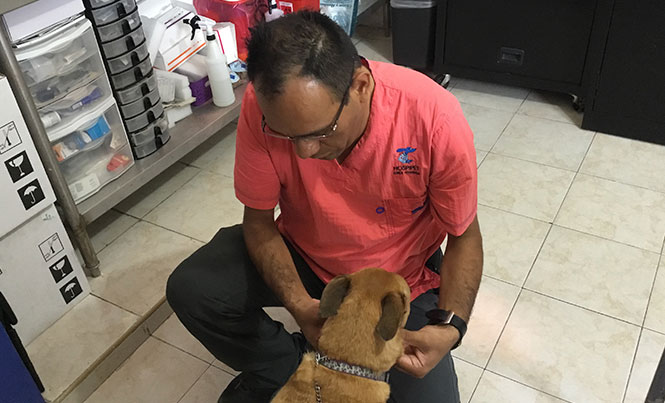 Eduardo Cardenas was just six years old when he became fascinated with medical books owned by an older cousin who was a doctor. He didn't understand everything but kept being drawn back to them. By the time he was eight years old, he decisively told his grandfather he wanted to be vet. His grandfather replied  "Be a lawyer – you need to make money, or you will die hungry". His family were poor and did not support his future dreams. Undeterred, he worked hard to put himself through a veterinary degree in Mexico City's university, making money by offering pet vaccinations in his community at a time when they were not regulated.
He was drawn to Playa by the need to escape big city life in 1995. He had heard about an opportunity at a place called Xcaret, then relatively unknown and less than a quarter of the size it is today. He offered social services to the park and in turn was given a small apartment, one meal a day and a four-month contract. Four years later he was still there, as a paid park veterinarian working with both the wild animals and horses.
At this time, he also started to work part-time at a clinic, mostly helping cats and dogs, and a year later managed to buy it. In 2010, he bought and moved to new premises – Hospipet located in Avenida Luis Donaldo. He grew his business, bought more equipment and gained a reputation in the area that has led to around 30-40% of his work being referrals by other vets for more complicated surgeries.
He told me that "Playa is a place to find yourself and grow without the restraints of a ceiling". He met his wife (originally from Tabasco) in Playa and now has two beautiful daughters – 17-year-old Dulce Maria and 3-year-old Allyson. Right now, his hope for Playa is the return of its past feeling of security and that Mexico in general grows and learns to shake off its current mentality. "We need to respect time, space and the movements of the rest of the world".
But his final words about Playa strike a chord: "Definitely this place is the experience of my life and I think I will die here".