Foodies
Men of Cancun: Meet Chef Cesar Germain
Meet Chef Cesar and make his habanero soup at home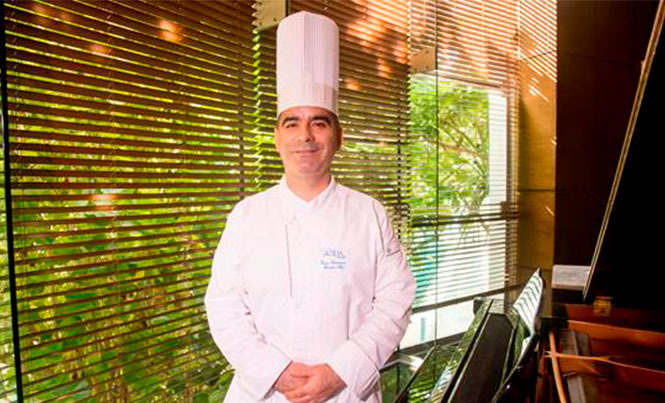 I recently had the privilege of meeting an incredible chef in Cancun, whose techniques and versatility wowed me and I wanted to share his background with you.
Originally from Puerto Varas, Chile, Chef Cesar Germain arrived in Quintana Roo 14 years ago and in 2014 joined Live Aqua Beach Resort Cancun, where, as executive chef, he heads their numerous awe-inspiring restaurants.
Interestingly, he initially studied to be a dentist, but his father, who owned several restaurants in Spain, ignited a passion for cooking in Chef Germain. This led him to hone his culinary skills in San Sebastian, Spain. I tasted so many of the chef's signature dishes from tender veal sweetbreads and a crispy skinned mahi-mahi to an intense scallop appetizer, but it was his habanero cream soup that blew me away.
Creating dishes for challenges to help children with cancer in Mexico and winning first, second and third place is the norm for him and his team. It is this dedication that also shows in his love for his nine-year-old daughter, with whom he looks forward to spending a special Father's day on June 9.
I wondered whether on his days off he preferred to cook at home or eat out. He shared with me that he loves to prepare duck and lamb at home, but he also has favorite restaurants like Nomads Cocina & Barra, Rosa Negra and Puerto Madero in Cancun, and Nobu in Mexico City. Like a Houdini, his dishes are magical. Many years working at the Ritz Carlton in Barcelona (winning a Michelin star in 2002) and with award-winning chef Pedro Subijana from famed restaurant Akelarre may have contributed to the umami balance of flavors that he creates whether they be sweet and spicy or savory and sour, but always presented on an eye-popping plate.
Chef Cesar's Habanero Soup
1 sliced onion
1 minced garlic clove
5 diced habaneros (remove seeds)
10 spinach leaves (remove stems)
Olive oil, salt and pepper to taste
1 cup butter
1 cup flour
1 liter milk
1 liter chicken stock (unsalted)
½ liter heavy cream
1 potato (thinly sliced in strips)
1 cup vegetable oil
6 small individual bread bowls rubbed with garlic, sprinkled with parmesan cheese and toasted
On a cookie sheet combine garlic, onion, habanero, olive oil, salt and pepper and roast in a pre-heated oven at 350 degrees till golden brown, approx. 10 minutes. Toss and roast for 10 more minutes. In a saute pot, over medium heat, blend the butter and flour, stirring constantly. Add the milk, stock and cream. Continue to stir till well incorporated and remove from heat. Add the liquid and roasted items to a blender with the spinach and puree. Heat the vegetable oil and crisp the potato strips. Cut the top of the bread bowls and carve out some of the inner bread to make room. Add the soup and finish with the potato strips.