Health & Fitness
Walk This Way! Get on Your Feet and Explore Playa del Carmen
Central Playa is still small enough to be explored on foot - choose your route: coastal, downtown or residential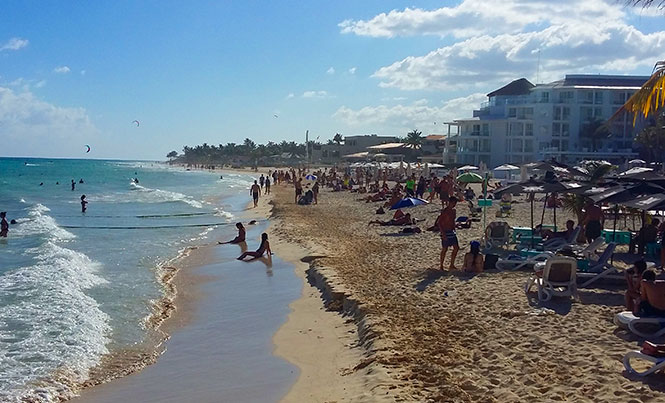 One of the best ways to get around central Playa del Carmen is to walk. I know, the sidewalks are often comparable to an obstacle course, with random trees and garbage cans blocking the way, holes or uneven paving underfoot, and water spouts draining rainwater from rooftops (whose idea was that one?). However, during the beautiful winter months, getting around Playa on foot to run errands or just to enjoy the fresh air can be a great way to add some activity to your day.
Walk the Beach
What better place to go for a walk than our picturesque white sand beach with the Caribbean turquoise blue water lapping at your feet. Yes, there are parts of the beach that aren't perfect, and parts that are lacking a considerable amount of sand, but all in all, it's pretty great place to be able to walk daily.
Walk Quinta Avenida
Fifth Avenue in the center stretches 2 km from the ferry pier to CTM (Calle 46); when was the last time you walked it the entire length? Shops and restaurants change frequently here, so taking a walk down our famous Quinta Avenida may unearth a new boutique, restaurant or bar you'd like to try.
If you fancy a longer walk, the Fifth Avenue extension runs all the way to the entrance of Grand Coral and is over 4 km from the ferry pier. The first few streets past CTM are home to some excellent cafés, restaurants, stores and a great dive shop. You can also check out some eye-catching street art along the way.
Run your errands on 30th
If you need to do some light shopping, get to the bank or run some errands, 30th Avenue probably has what you need. Agreed, there are buses or you could take the car, but in this amazing climate, why not consider walking?
Get in touch with nature in Playacar
This beautiful gated community has wide footpaths and bike paths lined with trees to provide shade. The frequent pedestrian crossings, well-maintained golf course and manicured lawns lush with flowers and fruit trees make it a great place to take a stroll.
Sara Jones
Spa, Wellness & Lifestyle Expert, Spa Consultant, Speaker and Founder of Spa & Wellness MexiCaribe magazine