Tulum
Cobá and Punta Laguna
Cobá is an enormous site with all the sites lost among the dense jungle of the Nohoch-Mul, making this ruin unique.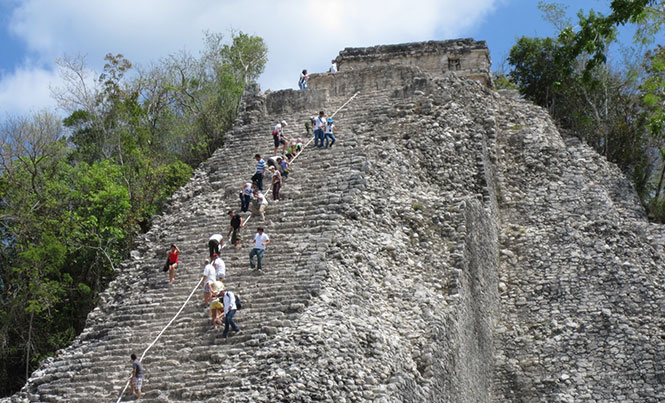 Perhaps the largest Classic period city in the northern Yucatan Peninsula, Cobá was founded around a series of small lakes that clearly aided its development. After every visit to ruins, there are always nearby cenotes that beckon, to help you cool down and relax from all the trekking.
Distance in miles from Cancun: 108 km; Playa del Carmen: 68 km
HOW TO GET THERE
Car
Take Highway 307 south. From Tulum take the road to Cobá, and drive a further 20 minutes. You'll come across a roundabout, with a signpost for Cobá. The parking lot admission fee is $50 pesos. For the cenotes, keep driving past the Cobá ruins' entrance, on a track that takes up behind the town. You'll drive for 20 minutes up the mountain and until you see three cenotes sign posted. For the drive from the ruins to Punta Laguna: return to the roundabout on the Tulum-Cobá road, take the exit that leads to Cancun. Located 15 miles from Cobá, follow the direction for Nuevo Xcan, you will drive for about 25 minutes before you see a signpost for Punta Laguna.
Bus
Getting to Cobá by bus may be an adventure but it is possible! The ADO bus leaves from Playa to Cobá at 9 a.m. Fare is $120 pesos one way. Then take a colectivo to the Cobá ruins or to Punta Laguna, they leave opposite from the ADO bus terminal on 574 Tulum Poniente Avenue, in Tulum´s downtown. There is no set schedule for the colectivos. The return bus from Cobá to Playa is at 3:10 p.m.
Taxi
From Tulum, you can hire a taxi from downtown. Agree to a price with the driver before getting in.
WHAT TO SEE
Cobá ruins
A visit to the ruins is normally included in the most-see list of the Yucatan Peninsula. Climb Nohoch Mul Group, the main 138-foot high pyramid and 120 steps, where you can enjoy superb views from the top temple. $59 pesos entrance per person. We recommend you hire the bikes for an additional $35 pesos and trici-taxis with a driver for $170 pesos for two hours available for rent at the entrance.
Mon-Sun 8 a.m. to 4:30 p.m.
Cenotes
Ten minutes from the Cobá ruins, there are three cave cenotes side by side, Choo-Ha, Tankach-Ha and Multun Ha. Entrance to all three is $100 pesos per person.
Punta Laguna Monkey Sanctuary
A sanctuary for over 600 howler monkeys and spider monkeys, which also showcases jaguars, pumas, crocodiles, coati and dozens of bird species. Entrance fee $80 pesos per person, or an hour tour with guide for $300 pesos. There is also a zip line over the lagoon, a rappel into a cenote, and a Mayan purification ceremony.
[/vc_column_text][/vc_column][/vc_row]