Health & Fitness
Experience a Traditional Temazcal
A type of ceremonial steam bath dating back to pre-Hispanic times is available in a variety of locations throughout the Riviera Maya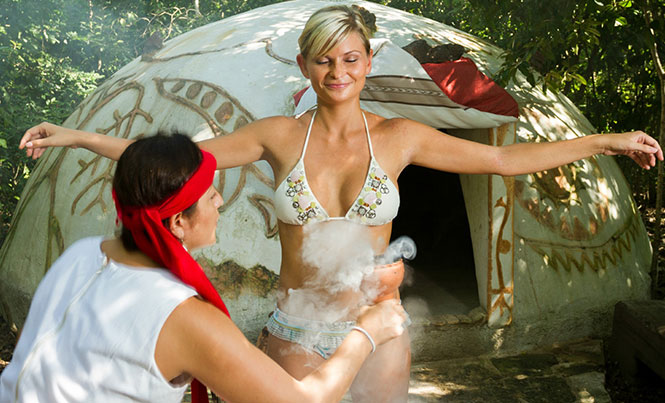 The Temazcal is a traditional Mesoamerican spiritual ritual of rebirth and a fantastic cultural experience to enjoy while spending time in the Riviera Maya. It was practiced during the Maya splendor with the name Zumpul-Ché.
A type of pre-Hispanic steam bath, it is indigenous to the people of Mesoamerica. It combines both a therapeutic treatment of physical detoxification and a spiritual, healing ritual of renewal. The origins of the term Temazcal stem from the Nahuatl word temāzcalli (house of heat), or from the Aztec teme (to bathe) and calli (house). The domed structure, made from mortar and stone, represents Mother Nature's womb; hence, you are 'reborn' as you emerge after the ritual. A Temazcalero first performs a smudging with the smoke of copal incense to cleanse the aura, before guests crawl into the mystical chamber one at a time and take a seat in the circle, typically on a mat, blanket or towel.
Using steam created by herb infused water poured over glowing hot rocks in a central pit, the Temazcal ceremony purifies the body and the spirit. The Temazcalero, both a shaman and therapist, incorporates the elements and leads the practice of this ancient healing therapy to the level of a spiritual experience. The four elements include:
Water – symbolizing blood, fluids and emotions.

Earth – physical matter and 'the body'.

Air – the herb infused aromatic steam is symbolic of our breath and life's energy.

Fire – the embodiment of the spirit via the hot volcanic stones.
During the four stages of the Temazcal, known as the four 'doors', the intensity of the heat rises and with it, feelings and emotions are liberated. The experience is shared but individual at the same time. Between each stage of the journey, a welcome influx of fresh air rushes in, as the blanket-covered entrance to the Temazcal is uncovered. The ritual ends with either a dip in the ocean to cool down in the waves or a refreshing cold shower and possibly a swim in a pool depending on the setting.
The Temazcal is a unique experience not to be missed, and one that can't be replicated in other parts of the world. Prices can range from a few hundred pesos to a couple of hundred dollars depending whether you choose a more rustic, local setting or a luxury resort.