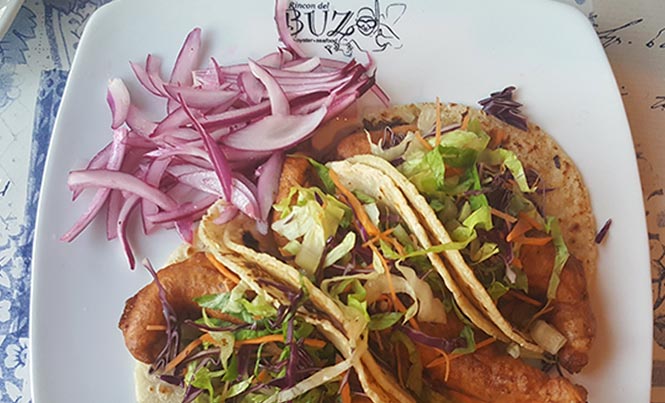 When dining out, I like to choose the item on the menu that is named after the restaurant. However the best way to get my attention is to have an open kitchen. Apart from the fact that it sets a hygienic standard, I really like to see the chefs working their magic, preparing the food. Having combined this element with an advertisement for homemade tortillas,  there was no way I could resist Rincon del Buzo, in La Cruz de Huanacaxtle, Nayarit.
Located on the main road of the town, between Punta de Mita and Bucerias, you will find this cozy restaurant. Normally I do like to study the menu a bit, but this time, after a day on the beach and drooling for tacos on the drive there, I made my choice very quickly. One order later and there was just one thing left to do: sip my beer while watching the tortillas being made in front of me, with the pan on the fire and the aroma of the shrimp, fish and onion teasing my taste buds.
It's safe to say the atmosphere was set and the food did not disappoint. Well seasoned, great presentation and well-balanced flavors. Needless to say, it didn't take long for us to clear our plates and with a surprising un-Mexican touch, the plates were not taken away until both of us had finished the meal. That, for me, is good service.
So if you are driving home, visiting 'La Cruz', or just feel like a having good meal, head out to Rincon del Buzo and spoil yourself with a view of the kitchen and tasty dishes.