Discover Mexico
Puerto Vallarta
Puerto Vallarta – Feels Like Coming Home
The tourist hotspot on the west coast of Mexico feels like coming home for Catherine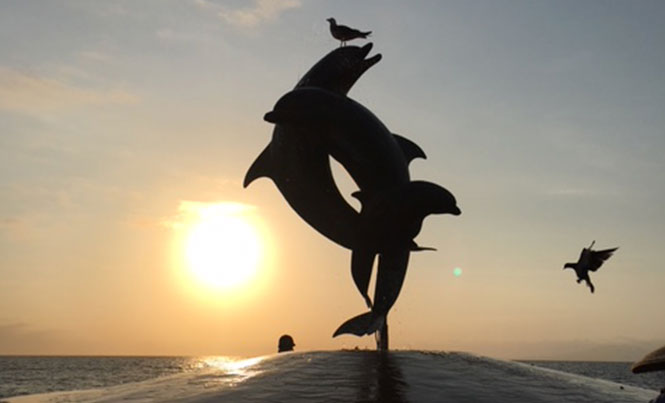 Elizabeth Taylor and Richard Burton originally put Puerto Vallarta on the map back in 1963, with their romance of the century. Even Jennifer Aniston, Ashton Kutcher, Cheryl Tiegs, Orlando Bloom and Eva Longoria make frequent trips to this paradise.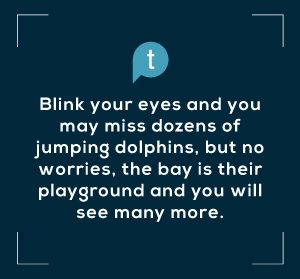 To say that I also have fallen in love with this town and surrounding areas of Mismaloya Beach, Bay of Banderas and Punta Mita is an understatement. This town may be known for mariachi and tequila, but its cobblestoned streets, mile-long malecon, fresh seafood and incredible people are all magnets. Many hotel companies are building in Nayarit, which may be too far to hop in a cab for a quick visit, so consider a hotel within a 20-minute ride from town. That way the true flavor of this authentic Mexican colonial city can be experienced numerous times during your stay.
A day trip will include dozens of picture-perfect moments of the malecon, the bronzed statues and other sculptures. I met an artist whose small Stonehenge-type sculptures of teetering, balanced rocks fit in perfectly with the glimmering blue of the water in the background.
Blink your eyes and you may miss dozens of jumping dolphins, but no worries, the bay is their playground and you will see many more. A visit to Our Lady of Guadalupe Parish Church on the main square yielded a nice surprise this time, as a bride in full regalia including lacy mantilla framing her face, got into her horse-drawn carriage to ride off into the sunset.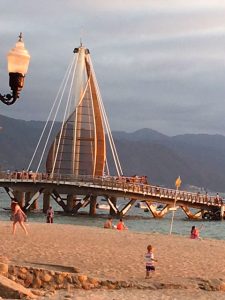 Friends mentioned their favorite taco places for lunch and each one was better than the last. For dinner, the town's twinkling lights are mesmerizing and you can imagine why Liz and Dick fell in love. Walk the length of the malecon to La Palapa restaurant a go-to on the beach, next to Los Muertos Pier which still has the most amazing view at sunset, and sumptuous shrimp. It reminds me of The Office restaurant in Cabo, right on the beach, toes in the sand, margarita in hand.
If you want to be more active, then check out some of the numerous offerings, like we did, including a mind-blowing ATV ride with a view like no other or a sea adventure, that includes horseback riding on the beach. Next time I think rappelling down a mountain, jeep buggying on Sayulita beach or extreme zip lining will be on the agenda.