Discover Mexico
Our Environment
Conservation and Science: Learning During Summertime
Blue Core AC held a summer program in Puerto Morelos for high school students which focused on the conservation and care of the environment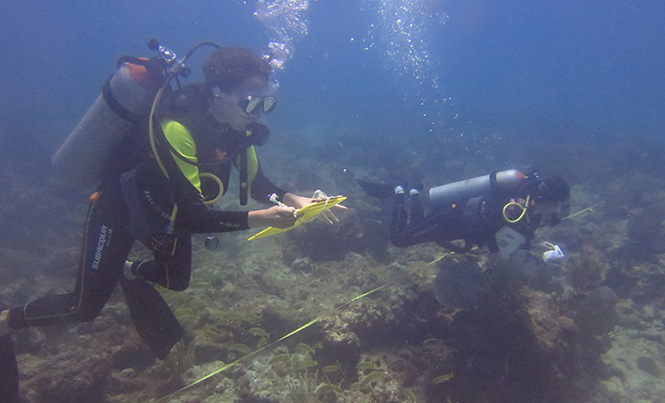 The Riviera Maya is a beautiful place to spend your holidays, but it also has many challenges as the massive and unregulated tourism development has a negative impact on the fragile marine and coastal environments. There are many organizations and institutions that work on understanding and protecting this area. One way of doing this is raising awareness and training the younger generations to see the issues, understand the causes and, hopefully, think of possible solutions.
Blue Core A.C. is one of those organizations working in the area of marine science and conservation. Their main project is studying the spotted eagle ray aggregations found in key diving spots. In addition to science, this organization also focuses on education programs. One of these programs took place this summer with high school students and was based at the beautiful marine park of Puerto Morelos. Blue Core planned this summer camp to plant the seed of conservation and care for the environment in the students' minds, as well as show what science does for the ecosystems found here. The program aimed to have the students understand the importance of the marine ecosystems found in the Riviera Maya; learn about scientific thinking and the monitoring methods used by scientists working here, and become conscientious (and certified) SCUBA divers.
¨This summer camp was not only great fun but also a success for the organization and for us as conservationists! First, because the students got to compare many reefs within this area and were able to see first-hand the negative impacts we, as a society, are having on it. They also got to understand the key link between land and water which is critical for the conservation of the Riviera Maya. And even more importantly, the understanding that we are also part of the solution took root in their minds,¨ said Ximena Arvizu, the educational program leader of Blue Core A.C.
Environmental education is urgent everywhere, not only here. What better way to learn something new and to raise environmentally conscious people during the summertime than this one! So, I proudly say, "Well done, Blue Core team!"