Discover Mexico
Relaxed and Amazed at Ecopark Kantunchi
Underground River and 5 cenotes in one place!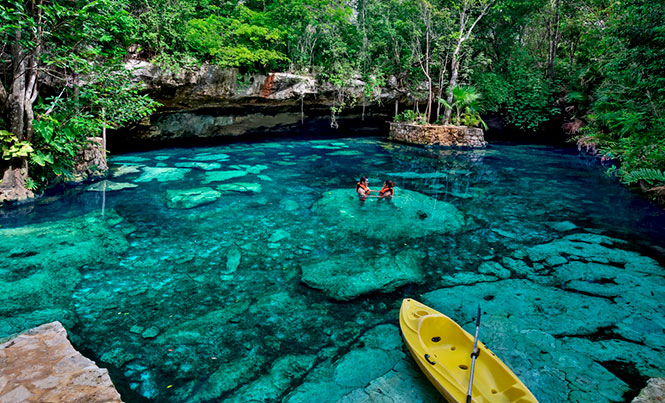 It is a pleasure just arriving at this ecological park that invites you to follow a path lined by a variety of tropical plants all the way from the main road to its reception (approximately 250 meters).
I was received by a very friendly staff with a welcoming smile. They presented their tours to me and I picked the GRUTAVENTURA Tour. I must say that it is an indescribable experience that only those who have done it will understand.
Entering the underworld (Xibalbá as the Mayas called it) amazes you as it wraps you in the blue of its crystalline waters, and you find yourself surrounded by the impressive formation of rocks (stalactites and stalagmites). Once out of it, you arrive in a jungle that only a few have the honor to enjoy.
The second part of the adventure consists of a tour of five cenotes; the first one, named after the Kantun-Chi park, is a semi-open cenote, as is the second (Saskaleen-Ha), in which you can take a kayak tour (already included in the package).
I arrived at the third cenote named Uchben-Ha Simply Extraordinary; it is an open cenote and one of the favourites of most visitors. I took a tour in Truck (a small cart on a rail pulled by a horse), which took me to Zacil-Ha, a cave-like cenote of incredible turquoise waters. Finally, I visited Zihil-Ha, where, besides swimming, you can give the big "I do" at a Mayan wedding.
To end on a high note, I savored succulent dishes typical of the region in the Lol-Ha restaurant. ECOPARK KANTUNCHI is definitely a 100% natural place that you cannot miss when visiting the Riviera Maya.
https://www.facebook.com/kantunchi/
https://twitter.com/kantunchipark