Health & Fitness
Naum Spa, a Playa del Carmen Wellness Centre
Experience the therapeutic benefits of this Playa del Carmen wellness centre, featuring hydrotherapy facilities and massage amongst the backdrop of the jungle surroundings.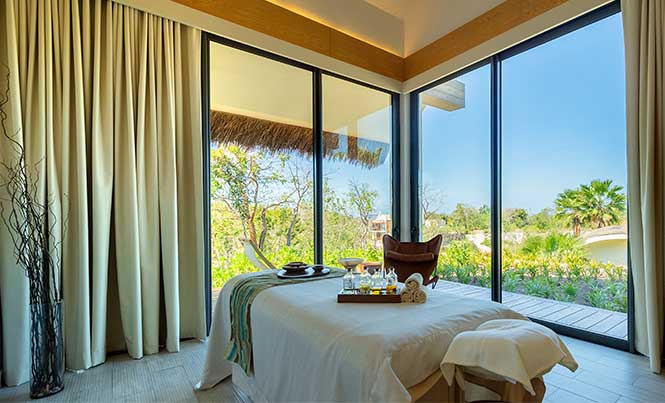 Andaz Mayakoba, by Hyatt Hotels, is situated just north of Playa del Carmen in the Mayakoba Resort complex. Offering 214 guest rooms, mangrove-lined lagoons and tropical jungle foliage provide the backdrop for dining, relaxing or engaging in wellness activities such as walking, jogging or biking the nature trails, in addition to bird watching, yoga and swimming.
Embracing local culture, Andaz Mayakoba features large painted murals by Senkoe, an artist hailing from Playa del Carmen whose popular and colorful creations have gained international recognition. Beautiful tropical birds, sea creatures and jungle cats adorn the sides of the buildings, bringing life to the surroundings.
The hydrotherapy facilities at Naum Spa include a sauna, steam room, experience shower and Jacuzzi, with views of the lush jungle just outside, and an attendant always on hand to assist and guide the experience as you alternate heat and cold therapies.
At Naum Spa, therapists focus on providing a tailored massage experience with a detailed consultation to customize each spa service to suit the needs of the guest. Starting each ritual with the selection of a positive message written on a card, and a spiritual energy cleansing with a copal incense stick, Naum spa therapists set the mood for the guest to relax and get the most from their journey.
The refreshment platter served post treatment provides an assortment of flavors with fruit, nuts, naturally sweet treats and hydration.
Sara Jones
Spa, Wellness & Lifestyle Expert, Spa Consultant, Speaker and Founder of Spa & Wellness MexiCaribe magazine