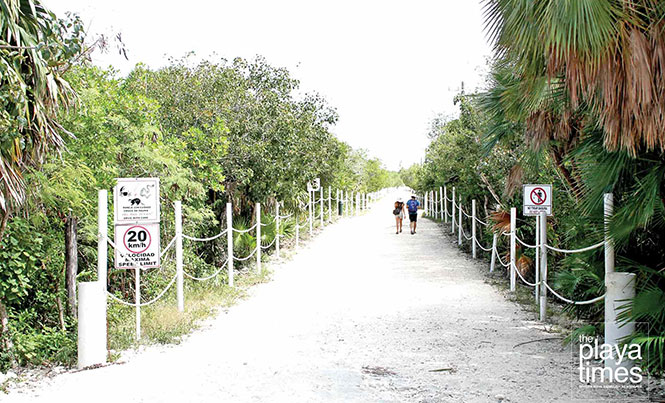 Playa is gearing up for what is perhaps the busiest week of the year, Semana Santa (Holy Week). This is a very popular vacation week for tourists from all over Mexico and Playa will see an influx of visitors from places like Mexico City (DF) and Monterrey. High seasons in a tourist town are a double edged sword. Places like Playa del Carmen and Tulum rely heavily on tourists dollars. Most of us who live here, Mexicans and foreigners, look forward to high season because it means we will be busy with work, making money to save for low season when visitors drop off, and so do the tips. However, we also dread more people in our town, our beaches, our bars. Mexicans who live here complain about the Chilangos from DF on their beaches just like Vermonters complain about the New Yorkers on their ski slopes. As the region's popularity continues to grow and the towns grow along with it, we will see more people visiting and more of our secret places discovered.
Akumal was one of those secret places we all thought we knew about long before anyone else. Over the years, we have seen it go from a great little spot to snorkel quietly with turtles to a tourist money making machine that puts the turtles at risk. As we go to print, the most recent news from Akumal is that SEMARNAT (Ministry of Environment and Natural Resources) will declare Akumal a turtle sanctuary. We hope this will finally provide the fragile reef system and the turtles the protection they need.
Xcacel, like Akumal, was our secret spot, but word got out, and now more people are discovering this beautiful piece of paradise. The differences between Akumal and Xcacel are many. Protected as a turtle sanctuary since 1998, Xcacel is not available for development by big hotels. There are no turtles to snorkel with (it´s a nesting area). There are no restaurants or bars. It does, however, still need our protection as visitors and there are things we can do to minimize our impact on the environment, like pack in what you pack out and limit your interactions with wildlife.
As much as we complain about the number of people in our bar, on our beach, or in our town, we need to remind ourselves that we were all visitors here once. We all had a hand in the development of this region and the popularity of our favorite spots. Our hope is that more areas will get protection before they need it.[/vc_column_text][/vc_column][/vc_row]