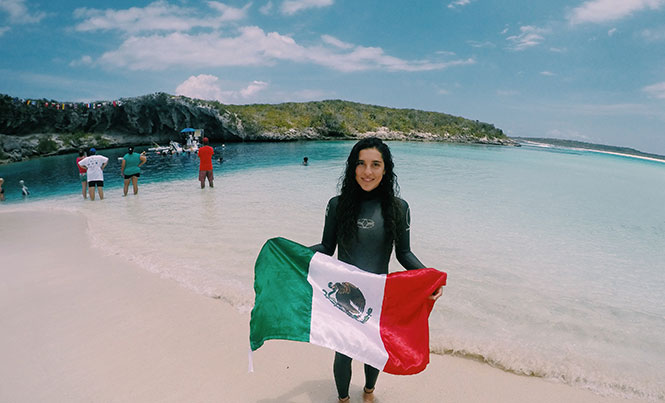 In this edition, for our cover, we chose to profile Camila Jaber. She is a young, record-breaking freediver from right here in the Riviera Maya. We thought she was an appropriate story for our cover first because we love to profile residents who are making a difference, either by challenging themselves or giving back to the community and the environment we call home. Another reason we Camila is perfect for the cover? She is right at home in the environment that brought most of us here in the first place – the sea.
For those of you who aren't familiar with freediving, it is a practice that involves diving without a breathing apparatus like scuba equipment. One breath and down you go. Professional freedivers train extensively to be able to reach the depths they do. Depending on their discipline (with or without weights, with or without fins, etc.) divers have been recorded reaching depths of up to 214 meters. That is 702 feet. Yes, much deeper than you would ever hope to go while heading out for a recreational scuba dive. The deepest I have dived was in Cozumel at Devil´s Throat, and we hit around 130 feet. Deep enough for me thanks and I was scuba diving. Herbert Nitsch, the freediver who reached 214 meters, attempted to break his own record by descending to depths of 253.2 meters (a staggering 831 feet) but passed out on the way up and needed the assistance of safety divers.
Whether a freediver is looking to break records professionally, or to feel a greater connection to the environment they enter, they challenge their bodies to do things that most of us would consider impossible. Their connection to the sea is unmatched by those of us who choose to snorkel or scuba. Even if for a short period of time, they are part of the sea. They swim with bull sharks; they play with dolphins, and they enter shipwrecks. Hearing the sounds of the sea, without the interruption of bubbles and sucking regulators.
Camila´s experiences under the water have lead to her commitment to protecting the environment through her studies. She is currently studying sustainable development engineering. We look forward to following this young freediver´s accomplishments whether it be diving deeper and continuing to break records or in her future career in sustainable development.