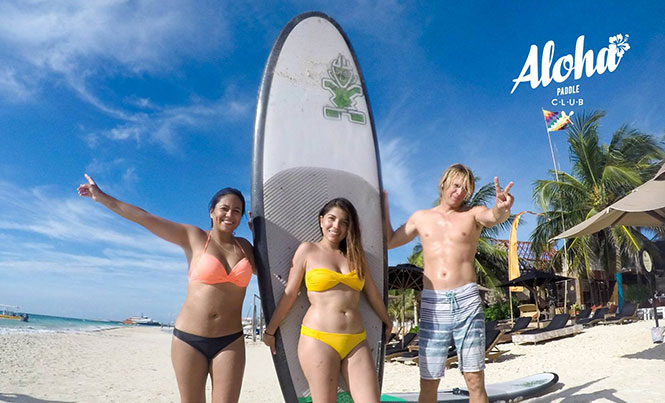 Head down to Inti Centro Holistic Beach Club on the beach between Calle 4 and 6 to get out on the water for a fun workout and maybe a bit of therapy mixed in
I have terrible balance. Anything that involves balance, like walking without getting hurt, can be challenging for me. So, as I headed out early one morning to try stand up paddle boarding (SUPing) with Aloha Paddle Club, I prepared myself to spend a lot of time in the water.
Aloha Paddle Club is located on the beach between Calle 4 and Calle 6 at the Inti Centro Holistic Beach Club. Sander Claassens, one of its founders, was kind enough to allow me to join them for a 7:30 class on a beautiful morning. Sander has been in Playa del Carmen for almost five years, and the opportunity to get involved in SUPing occurred about two years ago in the summer of 2014 that eventually lead he and a friend to create the Aloha Paddle Club last year. Eventually, Sander found the perfect spot, right on the beach, at Inti. ¨For me, it was the perfect place. It´s a great spot. It´s really chill. I used to do yoga here, and it was the perfect addition to Aloha.¨
As we sat on the deck at Inti, I couldn't have agreed more. Inti Holistic Beach Club provides a perfect location for Aloha Paddle Club to offer SUP in addition to their relaxed beach club and yoga studio.
The morning of my class, our group consisted of six. We headed to the beach where the boards and paddles were waiting for us. Sander gave us newbies brief instructions including how to hold the paddle, how to enter the water with your board, where to position your body, and what was going to happen once we were all in the water. The instruction is intentionally kept brief so you aren't overwhelmed, and let's be honest, you can´t wait to try it out!
The water was like glass when we entered and we all headed out. Even though we were all different ability levels, I never felt intimidated. The environment that Sander and the team at Aloha creates is one in which everyone feels comfortable and welcome. Whether you are super fit or not, paddle boarding with Aloha Paddle Club is a positive and rewarding experience. ¨It's almost like therapy,¨ Sander says. ¨We're working out. We're swimming. We're chatting. People really open up the minute they're out on the water. It has like it (the water) has healing power. The masks come off.¨
Our time on the water lasts about 75 minutes, during which, I might add, I never fell once despite my initial belief that I was going to be swimming more than paddling. In fact, I was already planning my next session.
If you are interested in trying stand up paddle boarding or if you are already an experienced SUPer, head down to Inti Holistic Beach Club. You´ll find them on the beach in Playa del Carmen between Calle 4 and Calle 6. For more information on pricing, classes, becoming a member and more, contact them on Facebook/alohapaddleclub. You can also visit their website at www.alohapaddleclub.com.