Mexico's Most Important Archaeologist Visits Playa del Carmen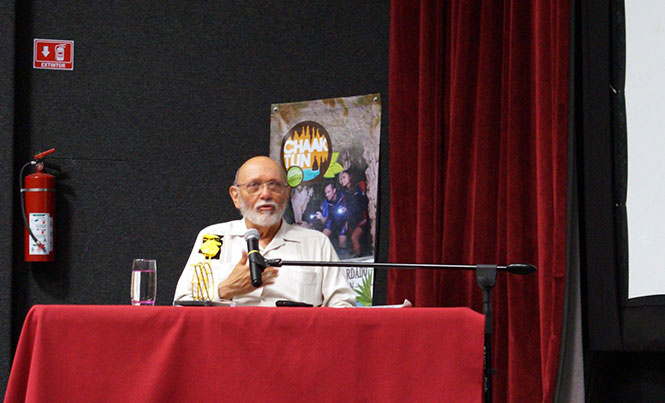 Eduardo Matos Mactezuma presented his lecture, "Five Ancient Tombs: Great Finds of Archaeology. From Death to Eternity" at Planetarium Sayab in January
In January, the renowned archaeologist Eduardo Matos Moctezuma honored us with a visit to Playa del Carmen. He was invited by Planetarium Sayab to give an interesting lecture entitled "Five Ancient Tombs: Great Finds of Archaeology. From Death to Eternity."
The visit was such a success, and the locals showed so much interest in his presentation that the planetarium had to schedule a second date so more people could enjoy this unique event.
Eduardo Matos has been responsible for more than 40 years of the work in the Templo Mayor, the imposing ceremonial precinct of the Aztec Empire, located in the historic centre of the country's capital, Mexico City.
In addition to his 57 years of work in the field of archaeology, he has received important awards for his valuable contributions to science and has published several books. In addition to speaking at conferences and seminars in Mexico and overseas, he has taken part in various important projects such as Comalcalco, Bonampak, Tlatelolco, and Teotihuacan. He has held important positions at various institutions, including Director of the National School of Anthropology and History, and Director of the Museum of the Great Temple.
In October of last year, the archaeologist was recognized by Harvard University with the creation of the Chair of Eduardo Matos Moctezuma. When I asked him about it, he replied, "This type of academic recognition is an honor and very touching. When you receive recognition of this kind it is actually for all of the team, and for several institutions, because I do not work alone. I work with collaborators, and I receive the support of the National Institute of Anthropology of Mexico".
With regards to the pre-Hispanic cultures, Matos Moctezuma says that Mesoamerica is one of the six great civilizations of the world, along with China, Egypt, Mesopotamia, and the Hindu and the Inca cultures. This is due, in part, to the development of the Olmec, Toltec, Aztec, and Maya cultures, among many others.
On behalf of myself and all Playenses I give my thanks to biologist Robert Rojo and his team of contributors for providing us with the opportunity to listen to this distinguished archaeologist, as well as for the ongoing conferences on science, art and culture that take place every Saturday at the planetarium.