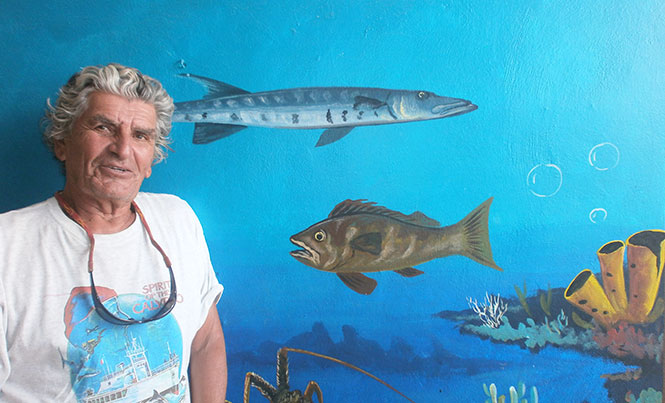 The highly acclaimed illustrator and author of the Cousteau Society´s adventure series of children's books is visiting Cozumel and reviving the stories of Cousteau's expeditions
For the last week, the spirit of Jacques Cousteau has been floating in the air of our Caribbean island. A special visitor came reviving the stories of Cousteau's expeditions in the Museum of Cozumel.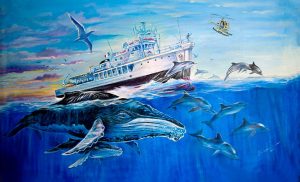 Dominique Serafini was a highly acclaimed painter, illustrator and author of the Cousteau Society´s L´Aventure series of children's books. His history with Jacques Cousteau includes being part of both Calypso and The Alcyone´s expeditions between 1982 and 1997.
TPT: So nice to meet you Dominique! Could you please tell us first how you decided to be an artist on the Calypso? How did it start ?
Dominique: Since I was 15 years old I always knew that I wanted to be an illustrator on the Calypso. I studied at the Ecole de Beaux-Arts de Paris. I grew up in Ile de la Cite in Paris and Picasso had his workshop really close to there. I quickly convinced my school that I was only good at drawing. I discovered scuba diving in Corsica. I was immediately amazed by the marine life. I met Jacques Cousteau during a conference in the oceanographic institute in Paris, and I showed him my drawings. He said, "Very interesting. Come to see me again when you grow up." I never gave up!
Is this your first time on Cozumel?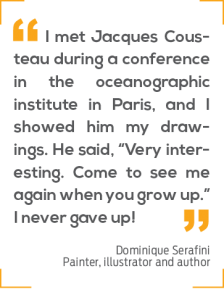 No, I came in 1975 and I dived in Palancar with a local fisherman. In exchange, I had to bring back a nice grouper. I came back last year to see a friend, and I really love this island and particularly the diving. The people of Cozumel are very friendly. I´ve met a lot of local people – locals who love their island and want to protect it. Today, I met Sergio Sandoval from Aquatic Sports & Expeditions. This man dived with Cousteau and Ramon Bravo in 1974. I will start an exhibition in the museum with my wife, Catherine Salisbury who is an underwater photographer, from March 2 to 22, called "Love of the Sea. "I also planned to do some conferences in children´s schools with the notable support of the government of Cozumel. I really feel welcome here. I like sharing my passion and try to make a better world if I can.
We have to say that people of Cozumel have a special feeling for Jacques Cousteau. Around 1961 a television documentary produced by Cousteau introduced the wonder of the reef of Cozumel to the public. Cousteau declared that Palancar and the surrounding reef were among the most beautiful in the world. It was then that diving became a legend in Cozumel.
http://www.dominiqueserafini.com/
http://www.dreamwrecks.com/DreamWrecks/dominique_serafini.html
http://cozumeldivingwithsergio.com/