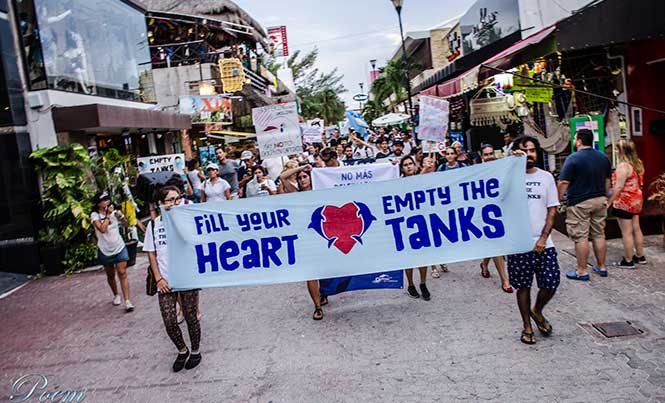 Locals join the international protests against the suffering of animals kept captive for human enjoyment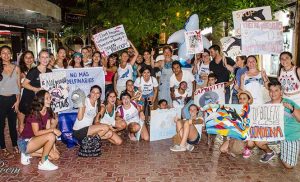 On May 13, a sweltering humid day in Playa del Carmen, approximately 200 people turned out to bring attention to the Empty the Tanks movement and support Delfines En Libertad. Their goal is to end dolphin and whale captivity. The fifth annual Empty the Tanks protests were held in cities all over the world. Participating countries were Turkey, Spain, Netherlands, USA, Belgium, Brazil, Hungary, Argentina, Canada, United Arab Emirates, Ireland, Germany, South Africa, Scotland, Australia, China, France, Russia, Sweden, and Mexico.  
Playa del Carmen's event began at 4 p.m. at Parque Fundadores. This year, the event included live music and activities for children, including dance troupes, face painting, and a best banner competition. Rossy Torres, a Delfines En Libertad volunteer, gave an educational talk about dolphin captivity to the young people in attendance.
The march proceeded down Fifth Avenue to the new aquarium at Calle Corazon, where they have approximately 3000 captive species. The march continued to Calle 38 and back to Parque Fundadores, ending at about 8 p.m.
Claire Macarico, a Delfines En Libertad supporter, states that apart from the salespeople in the tour booths who make their living on captive dolphins, the public is very supportive and interested in ending dolphin captivity. The public is much more aware of the cruelty involved in dolphin captivity and what goes on to achieve a dolphinarium performance. There is still a long way to go to end captivity as tour companies, as large hotels and corporations make a lot of money from their suffering.
Dolphins in the wild have a strong bond with their pod and spend their days hunting, playing and swimming 40 to 100 miles a day. There are plenty of opportunities to witness dolphins in their natural environment. To get involved and learn more about these organizations follow them on Facebook/www.delfinesenlibertad.org and Facebook/EmptyTheTanksWorldwide.