Editorial
Travel and Tourism Impacts on Popular Destinations
Venice experiences an influx of 70,000 visitors per day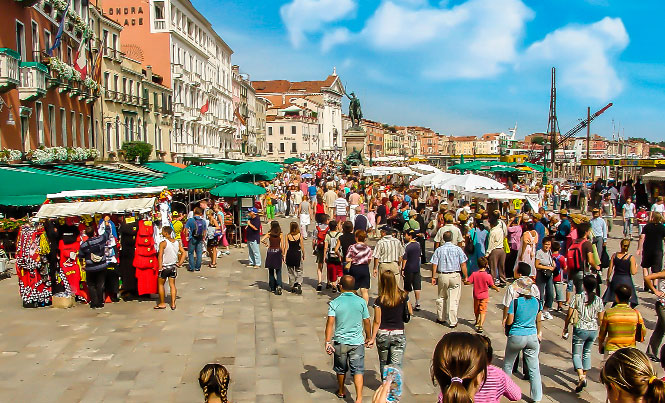 Apparently, the human race loves to travel. According to the World Travel and Tourism Council, the travel industry represented 3.1% of the world´s total GDP in 2016 and is forecasted to represent 3.8% in 2017. The growth is forecasted to continue and that means more and more tourists visiting already congested destinations. I recently read an article about how tourism is affecting day-to-day life in Venice. Tour groups and cruise passengers swarm to Venice by the tens of thousands daily, and the city is considering putting a limit to the number who can visit.
The Mexican Caribbean is another location that is growing in popularity with each passing year and those of us who live here can see a significant change. Tourists may lament that Fifth Avenue has changed or their favorite bar is gone, replaced by a sunglass or watch store. However, when you live here, you see more significant changes to our environment because of increased tourism. We see tour buses packing into small cenotes, unloading seemingly endless amounts of tourists into an already fragile ecosystem. We see garbage (mostly plastics) filling empty lots and littering just about every ecosystem that exists here — mangroves, the sea, the jungle. We see towns and cities growing faster than the roadway, water, electric, and Internet infrastructures can handle.  
As a tourist, or traveler, whichever term you use to describe yourself, you can have a direct and positive impact on the places you visit. All of us can be more responsible and conscientious when traveling.  In this edition, we have tried to highlight some things you can do to be more socially and environmentally responsible, including choosing eco-responsible tours (like Community Tours in Sian Ka´an), supporting local, small businesses (like Rivera Tulum Cooking School), and choosing products that are not harmful to the environment, like biodegradable sunscreen and recycled materials.
While our suggestions may be minor when you consider the significant impact travel and tourism is having on the environment, every little helps when making a difference socially and environmentally.