Cozumel
Just Cruising around Cozumel
A day on this historically rich island can be filled with various activities, from observing the to-and-fro of the malécon to snorkeling at Palancar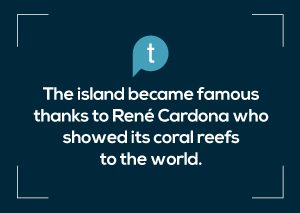 When I first heard the of the 'Island of the Golondrinas', I did not know that it was a reference to Cozumel; that is its meaning in Mayan. Some years ago, Playa del Carmen was part of the Municipality of Cozumel. In 1570, the island was a haven for French, Spanish, and English pirates and corsairs, supplying water, food and a place to repair their caravels. In 1956, the island became famous thanks to René Cardona who showed its coral reefs to the world and began to reach lovers of diving.  Today, this island is famous for the number of international cruise ships that dock in its harbors (Punta Langosta, Puerta Maya, Costa Maya, SSA México).
The ferry from Playa del Carmen to Cozumel invites tourists to visit the plaza, restaurants, shops, bars, museums, but there are no beaches near the center at which to swim.
Walking along the harbor (malecón) is fantastic; there are no hotels blocking the view, and it's fun to watch the ferries coming and going, as well as the international cruise liners, and small tour and fishing boats. A frequent sound when walking the malécon is the crash of metal from the trucks loaded with oxygen tanks for diving, and even from military trucks with oxygen tanks for training.
My friends recommended a trip to Palancar, in the southwest, for the best beaches to snorkel or dive and marvel at the colorful tropical fish and calm waters. We rented a taxi to get to Palancar at 2 pm. During the journey one realizes that the island has miles of virgin jungle. Admission to the beach is free and there is a good restaurant for margaritas, beers, ceviche, fish fillet with garlic, shrimp cocktails, etc. Most of the beach clubs close at 5 pm and at Palancar they did, they closed the gate! Our mistake will help other tourists, the best time to enjoy it is from 9 to 5 pm. Enjoy a massage by the beach, or a nap in a hammock or just feel the fine white sand between your toes and delight at the horizon.