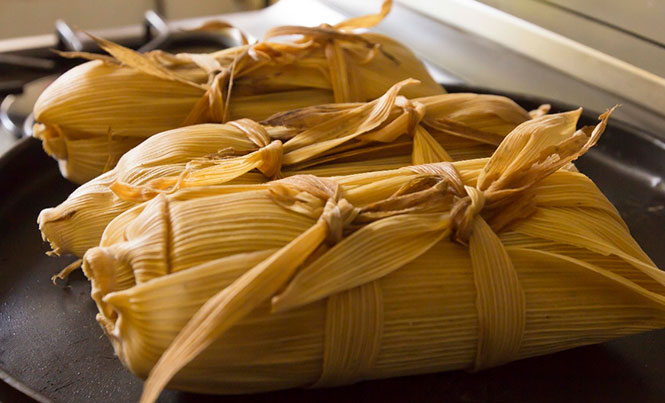 Ingredients to prepare the pork
1 kilo pork leg
¼ pork ribs
½ small onion
½ medium head of garlic
½ teaspoon allspice
½ teaspoon black pepper
¼ teaspoon cloves
3-4 liters purified water
Salt to taste  
Ingredients for the salsa verde
½ kilo green tomatoes or tomatillo
1 chile serrano
1 small bunch of cilantro
1 big garlic clove
1 tablespoon pork lard
Salt and pepper to taste
Ingredients for the masa (corn dough)
½ kilo nixtamalized corn flour
300g pork lard
½ cup crushed ice
3 teaspoons baking powder
Pork broth as needed
1 bag of corn husks soaked in hot water at least one hour
Preparation
Add the pork and all ingredients in its preparation list into a deep pot. Bring to a boil and reduce to medium heat. Let it simmer until the pork is shreddable, approx. 1 to 1½ hours. Once it cools off, shred all the meat and set it aside. For salsa verde, simmer the tomatillos, onion and chile serrano. Once they start boiling, time for five minutes and turn off. Wait until they cool off and blend with the garlic clove, salt and pepper.
Heat up a pan, add the lard and fry your salsa, check the salt, and let it boil gently for five minutes. Set it aside. To make the masa, use a deep pot and add the lard and ice and knead until it feels and looks like cream.
Now add the flour, baking powder and mix well. Start to add the pork broth, little by little, until you obtain a spreadable consistency. Keep kneading for about ½ hour, and test the consistency by adding a bit of the dough to a glass of water. If it floats, it is ready. If it sinks, keep kneading!
Once it has the right consistency, take a corn husk and spread one big spoon of dough into half of the corn husk. Add the salsa, shredded pork, close the tamal and continue until you finish all your dough. Cook them vertically in a steam pot for about one hour.
You will know they are ready when, upon opening one, it can be easily separated from the corn husk. Once ready, let them cool off a bit for at least 15 minutes. Enjoy!
Lily Espinosa,
Rivera Kitchen Tulum,
Mexican Cooking Classes and Culinary Tours