Discover Mexico
World Summit Cafe – Mini-Summit in Playa del Carmen
Representatives from around the world came to Playa for an intensive weekend of planning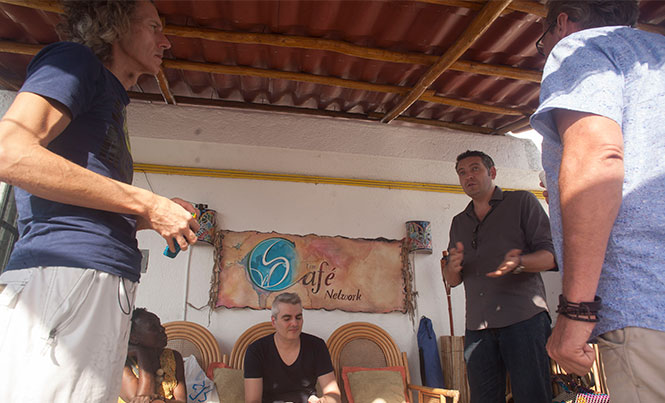 From January 12 – 14, a unique event took place in Playa del Carmen. 17 people from different cultural and racial backgrounds, arrived here from eight countries. Their purpose: attendance at a special conference organized by The World Summit Cafe.
As we first reported back in December, the organization was founded by American Troy Wilson and UK-based Tonny Kregel, in order to get people together and discuss how to resolve the most pressing issues affecting our world today. In order to make this a reality they had arranged the travel and accomodations for their visiting delegates. They also reserved a conference room for the entire weekend at Nest Coworking in downtown Playa.
A lunch was held on the Friday to welcome everyone and it was there I got to know all of the guests who spoke about their backgrounds. The diverse group included business entrepreneurs, project managers, independent political candidates, computer programmers and spiritual healers.  
Troy explained to everyone present their vision of a world that operated through a gift-based income/contribution economy. Members of the group would be spending Saturday and Sunday together at Nest brainstorming ideas while livestreaming to the world. Their goal was to organize themselves into smaller sub-groups and form a 'pizza-shaped' group dynamic of overlapping roles.
After two days of intense discussion and debate I met up with them again to find out how things had gone. Everyone was positive and energized at the free flow of ideas and the new friendships that had been made. Having made progress in organizing themselves, their next step will be putting together a larger World Summit Event by the end of the year, if not sooner. The organizers and participants plan to reunite and get working on an event that will "shift us all into the new paradigm."
I asked Tonny to explain what he meant by that. "The critical mass of humans who do not agree with the way things are and the way things are currently done that is necessary to create change has already been reached. They just need to unite. That is the function of the World Summit."
For more information about the World Summit visit their Facebook page: wscafeplayadelcarmen.