Organizations
World Summit Meeting in Playa del Carmen
A group of individuals in Playa del Carmen is bringing together various international groups in 2018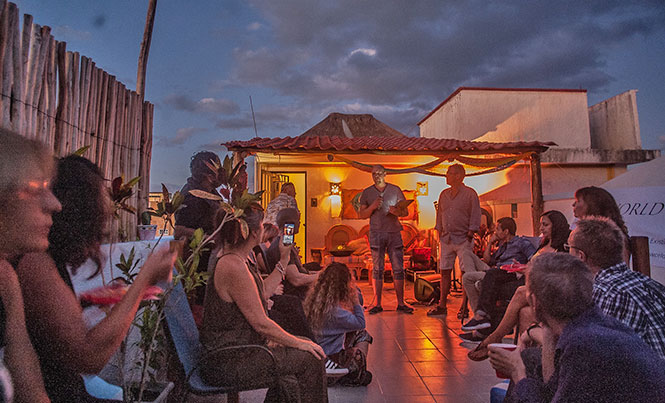 On the evening of December 11, The Playa Times was invited to a meeting of the World Summit Café, an organization with a chapter here in the city. The purpose of the evening was to hear from the founder Tonny Kregel who was to explain its purpose and provide information about their upcoming summit.
The meeting was held on the rooftop patio of a downtown condo, in keeping with their desire to create a network of World Summit Cafés hosted in homes around the world. Coffee, tea, soft drinks and some delicious appetizers had been laid out in the kitchen for attending guests. As I arrived, the first performance of the evening was underway from a local group of musicians led by Vanessa Hylande, playing  an eclectic mix of music.
Once the sun went down it was time to get down to business and Tonny informed us of what the upcoming summit was all about. He asked the guests: if a burning house has people trapped inside, do you wait around and discuss? Or do the 100 people outside with buckets and available water begin to put out the fire immediately?
It was a good analogy to emphasize the urgency that we face in resolving the world's serious problems. In their words the mission of the World Summit is "uniting and gathering people, groups and organizations beyond our different goals and the political and economic systems that divide us."
The network of World Summit Cafés is hosted in homes around the world, urging people to get involved in their local communities, and participate in a community of sharing and through the implementation of a gift economy. They hope that transition to this kind of system will contribute to a unified humanity.
The World Summit will take place on January 11 and host organizations from across the planet here in Playa del Carmen. For more information regarding venues and schedules, you can follow them on their Facebook/wscafeplayadelcarmen/.
Or visit their website: http://www.worldsummit.global/