Playa Pet Transport: Change A Life On Your Way Home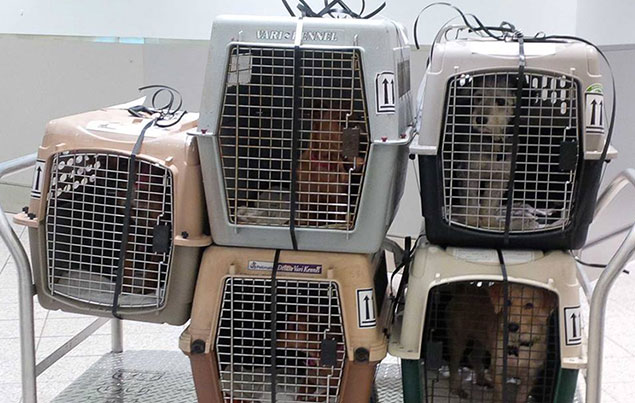 What better way to end a fabulous vacation than by helping change a life forever. Escorting a Mexican rescue dog to his new forever home may seem a bit intimidating but read on to find out how easy it is to make a huge difference in a dog's life.
Here in the Riviera Maya, there are many dogs in shelters and the streets, living a terrible life of abuse and neglect. Luckily, there are many rescue groups and individuals dedicated to getting these dogs into good homes. Some dogs are pulled from death row at the city pound and get a second chance at life, which may be in another country, like Canada or the U.S. One of the most important tasks for these rescues is finding them escorts on the flights to their new homes.
Heather Stewart created a nonprofit organization called Playa Pet Transport. She has dedicated her time to coordinate the escorts to Canada for many rescue groups and volunteers. She works tirelessly to organize flights for these rescue dogs and make the arrangements for the wonderful volunteers that offer to escort.
Heather explains that it is not difficult to be an escort. All the arrangements, veterinary documentation, and fees are paid by the rescue groups. You are just responsible to take the dog through customs on the other side.
The dog crate space is booked under your reservation, normally through Air Transat or Westjet, as they seem to be the most pet-friendly airlines.
Once you arrive in Canada you will find the crated dog in the oversized baggage area and you will take it through customs, present the paperwork and the dog and after inspection, you are on your way. The rescue representative or new family will be waiting for you outside and take the dog from there. All parties involved will have contact information and be able to communicate in case of any delay but over all, it is a very simple procedure.
Heather helps organize transport for many rescue organizations and individual fosters and rescuers here in the Riviera Maya. She will screen the dogs and find the best fit for them in Canada, ensuring they are healthy and have been vet checked for travel. If you are a frequent visitor or just on a vacation here in Playa, please consider escorting a street dog to their new life. All rescue organizations here are in need of escorts. If you contact Heather she will put you touch with the groups that have dogs waiting to fly.
For more information on pet escorting email playapettransports@gmail.com or check out Facebook/Playa Pet Transports.