El Papalote Celebrates 21st Anniversary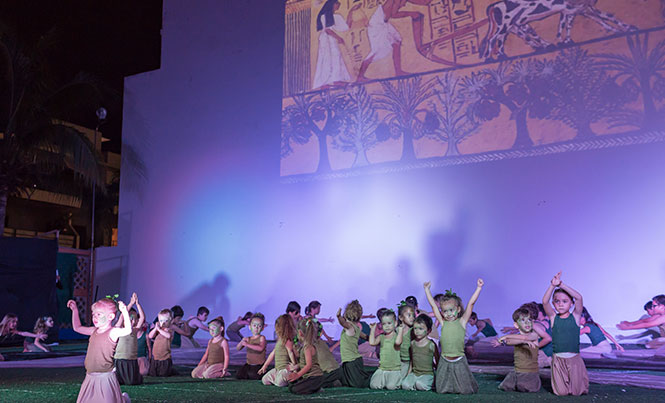 On December 18, 2015, Comunidad Educativa El Papalote celebrated its 21st anniversary.  Being a Waldorf school, 21 is a significant accomplishment as 21 is the age of completion in Steiner's philosophy of human development.  
The evening started with Claudia Pozo sharing the history of the school with photos.  Then, Rosa Barocio, the Master Teacher, who introduced Claudia to the Waldorf method in 1996, honored Papalote with recognition of Claudia's enthusiasm, focus, dedication, and empathy. The celebration consisted of a contemporary movement show, "The Gifts of Time", which included students from preschool, elementary, middle school and high school. After the show, students, parents, teachers, alumni, and community members stayed to celebrate.
Through the 21 years, Papalote has distinguished itself as a quality non-traditional educational institution which prides itself in fostering the individual growth of each student. It all started with Claudia Pozo's desire to give her own child a quality education. With the help of her partner,  Ludolph, they opened a summer course in a house on Av. Juárez. In 1999, Ludolph began building the facilities that we still call home. This same year, a ceiba tree was planted, which over the years has become our symbol, as it grows with our community.
Some accomplishments that have made Papalote extraordinary include:
A warm and personal relationship with the students, knowing them all by name

Recognition of the academic preparation of our graduates and acceptance into prestigious national universities such as ITAM, Monterrey Tech, the University of the Americas and in international universities like The Complutense University of Madrid, The University of Cataluña, of Bologna and of Berlin

The artistic and cultural training that has led some of our graduates to choose art as a career

First places in national painting competitions

In sports, the successes of our soccer and basketball teams in various categories

Being hosts and organizers of the intercollegiate athletic games

Being an inclusive school with our integration program for children with special needs (PINNE)

Collaborative families in our festivals; Halloween has become a tradition in Playa del Carmen

Commitment to the Waldorf system

Green School Certification by the SEMARNAT, with a recycling area and green roofs

Self-powered by 44 solar panels with which, as of August, had a saving of 18% energy

Focusing on the human quality that characterizes all members of our community
Above all, however, it is Papalote's sense of community that sets it apart.  Students, parents, and teachers form an international network where they walk together sharing experiences, beliefs, values, and confidence.
Papalote commits to the continued growth together as a positive atmosphere full of good people that leave marks on each others lives.