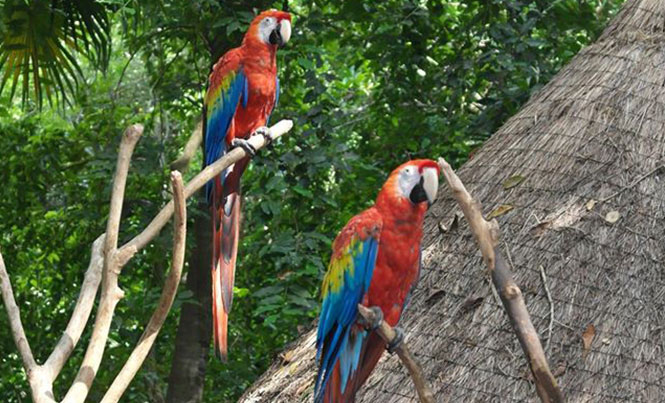 Need a break from the sun, the hustle and bustle of Fifth Avenue, and shopping? Swoop on into the Xaman Ha Aviary in Playacar to observe the Yucatan Peninsula's most beautiful avian residents
After a couple of days of tanning on the beach, hectic walks down La Quinta, and haggling with shopkeepers over the price of those maracas for little Johnny, it is time to relax and enjoy nature at the beautiful Xaman Ha Aviary. Located in Playacar, this protected sanctuary features birds, iguanas, turtles and butterflies and its environment is the polar opposite of a zoo. Here you can feel one with the birds and animals that surround you. If you don't want to trek through the jungle to see all the native birds the Yucatan Peninsula has to offer, a side trip to the Xaman Ha Aviary is the perfect solution.Park at its entrance, pay a nominal fee, and as you wind your way along a stone path you might turn a corner and come face to face with a pair of snowy egrets picking their way through the dappled sunlight. Look up into the trees and you will recognize a friend from all those pirate movies you watched as a kid, the colorful scarlet macaw, displaying its red, yellow and various hues of blue, as it keenly follows your every move, waiting to see if you brought any fresh veggies for its lunch. Have your camera at the ready when the motmot swoops through the overhead canopy and comes to rest on a branch several yards away. This bird's brown and blue plumage and the green trees as a background make for that picture perfect photograph.Although there are hundreds of different birds flying around the aviary, you immediately recognize the keel-billed toucan, and that group of Cirque du Soleil acrobats twisting their torsos, legs and heads in the most awkward positions. They aren't La Joya performers, but pink flamingos, anxiously getting ready for their dinner of algae, mollusks and crustaceans.   
Throughout the park, you will encounter turtles, iguanas, blindingly colorful butterflies and indigenous trees. While the aviary is not large, it is a great place to enjoy the peace and quiet of nature.