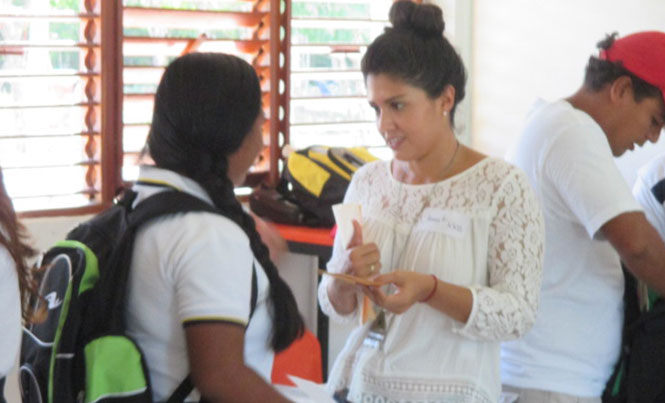 Eliminating reasons why children do not stay in school is the overarching mission of the KKIS Project (Keeping Kids in School), which was founded here in Playa in 2011 with an initial focus on giving school supplies to young children in need.
A great deal of progress has been made over the past five years, with this year's theme – Public Schools; Lasting Tools – reflecting the growth of the organization. KKIS now has four programs to keep kids in school and to help prepare them for the job opportunities that follow.

Supporters who volunteer and donate fueled the great advances made this past year!

❖ School supplies were delivered to 1,200+ elementary and secondary students.
❖ 18 scholarships of school fees, uniforms, books and a transportation stipend were given to high school students in four schools.
❖ $1,000+ USD worth of classroom essentials were purchased for teachers.
❖ 60+ high school students received help with their English language pronunciation and conversation twice weekly.

For more information and volunteer opportunities visit: www.kkisproject.org.

New this year: Scholarships
Last August KKIS worked with school administrators at the four high schools in Playa to identify 18 good students who would not be able to complete their studies without financial help.  They also gathered 16 young professionals (many from Rotaract, the young persons' Rotary club) to be mentors for the students – meeting with them monthly to discover needs, problems and triumphs and to deliver the transportation stipend.
The KKIS Scholarship Program, with both financial and volunteer elements, works well as a giving model for businesses, which is exactly what one company in Playa has signed on for beginning in January. GUSA Capital funded sixteen scholarships and chose 15 employees to act as mentors – enriching the employees' experience and demonstrating commitment to the community at the same time.
With one semester of the Scholarship Program under their belts and another just beginning, there is no doubt that KKIS is achieving its mission and at least 34 students have a chance to complete 12 years of school.