Our Favorite Roasted Chicken Spots
Whether you are looking for a whole roasted chicken turning in a French-style rotisserie or a brick-flattened chicken with the crispiest of skins, you need to check out our list!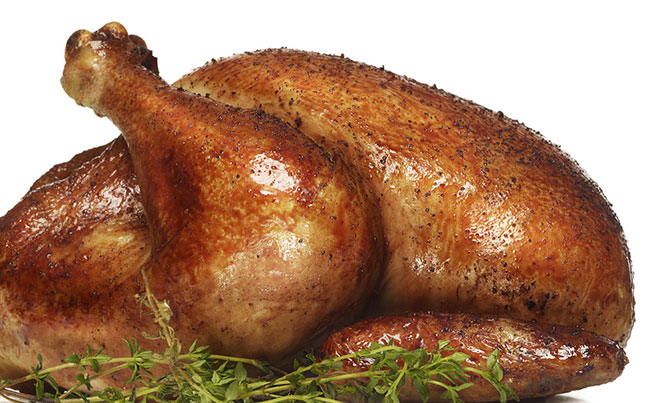 LA BROCHERIE: This is a restaurant where the French and Mexican owners will guide you through their menu to a delicious sit-down lunch or dinner. Here the secret ingredients are pineapple juice and herbs de Provence. A half chicken with rice, salsa and tortillas is just under $100 Pesos. Save some room for dessert. 15th Avenue between Calle 4 and 6.
EL PECHUGON: Dozens of chickens slowly spinning on a rotisserie, bathed in herbs, while, with each turn, the drippings fall on the small new potatoes. Take out or stand at the high counter. Bring home an entire roasted chicken with salsa (spicy!) and tortillas for $90 to $120 pesos, depending on the day of the week. Add a side of potatoes for good measure. On the corner of Juarez and 10 Avenue.
ASADERO EL POLLO: A half chicken, with a side of rice, spicy salsa, tortillas and pickled onions will set you back around $90 pesos. Here the poultry is flattened, basted and chargrilled in a huge brick oven, a classic Mexican tradition. They close at 6 p.m. or when they run out, so go for lunch or an early dinner. Look for the blue building at either Calle 2 and 20 Avenue or 30 Avenue and CTM (46).
FERRON'S JERK CHICKEN: The name says it all. Want some traditional Jamaican jerk spice on your charcoal grilled chicken? Then, head to this local favorite. Here a whole chicken with beans and rolls will cost $120 pesos, but don't forget to add a side of corn, coleslaw and some mac and cheese and you'll be licking your sticky fingers till the last bite is gone. 105 Avenue and Constituyentes.
LOS ASADOS DE PATZCUARO: named after a town in Michoacan is another out of the way, but oh so worth it, little spot. Here the tortillas that accompany the main dish are freshly made, the salsa verde has a kick, and the chicken is roasted in an open wood fire pit. Order your food to go and a meal for two with all the trimmings will set you back $100 pesos. Calle 90 and 10 Avenue.