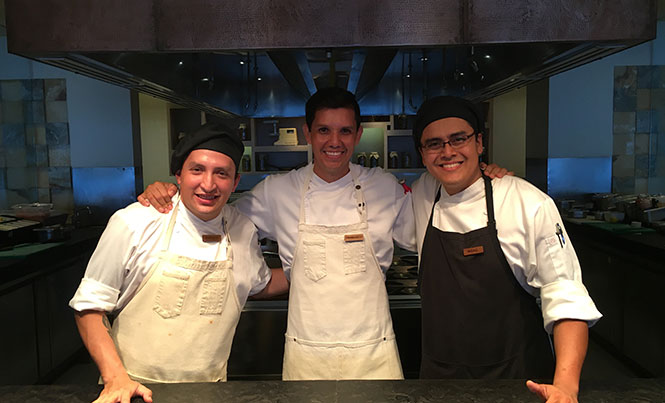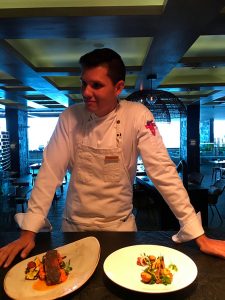 It's a world of contrasts at La Cocina, Fine Mexican Cuisine at Grand Hyatt Playa del Carmen Resort.
A comfortable, contemporary space offset by rustic, old-world Mexican table settings and decor.
A spacious interior, yet a sense of intimacy offered by the open kitchen and privileged view of the chefs at work.
A young, modern team preparing ancestral and traditional recipes.
Casual dining, warm hospitality, meticulous, professional service.
These contrasts extend to the menu too. Colorful, modern presentations delight the eye and highlight the simplicity of the creations.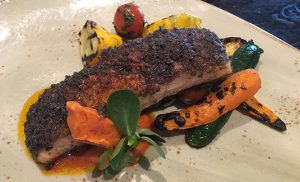 "The product should maintain its own flavor, and speak for itself", Head Chef Francisco Sixtos told me. This is the philosophy behind their menu, and the basis for their uncomplicated, genuine dishes, honoring generations-old traditions and flavors, without overcooking, exaggerated techniques or an abundance of condiments.
At 31 years of age, Chef Francisco is young, but speaking to him reveals an ease and maturity well beyond his years. I imagine it's something to do with being immersed in what you do well, and what you know is your passion, day by day.
Originally from Guadalajara and schooled in Cancun and Europe, the young chef leads a quietly confident and harmonious team.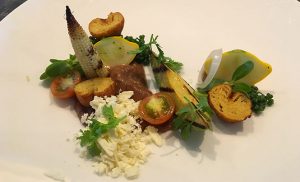 What can you expect? "Local products, pleasing contrasts, nothing too sophisticated. We want to transmit a flavor and an experience – something from our grandparents' table, from home, from a trip abroad."
That's exactly what I got while chatting to the team over a remarkable meal. A milpa salad delivered unmistakable, unadulterated Mexican ingredients – the success of which lay in their simple combination. Salmon with blue maize crust and fresh garden vegetables were set apart by the accompanying axiote (achiote) butter – a French staple inspired by the chef's travels, blended with the characteristic Mexican spice. Home-baked bread with a surprisingly fresh chorizo sauce made for a comforting, moreish treat.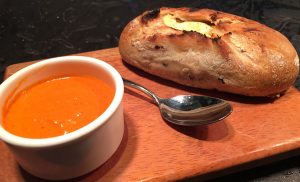 It's rare to leave a restaurant not just having had an excellent dining experience, but full of optimism. Having watched the fluid coordination of this team, tasted the sincerity of their creations and witnessed their desire to honor the integrity of Mexican cuisine, I left more than just satisfied; I left content that the culinary traditions of this beautiful country are in good hands.
La Cocina by Francisco Sixtos, is open Tuesday to Sunday, from 7:00 am to 11:00 am for breakfast, and from 1:00 pm to 10:00 pm for lunch and dinner. Monday from 7:00 pm to 5:00 pm.