People
So3: An Art Gallery
Artist Enrique Sotres creates unique pieces of art that capture the essence of Playa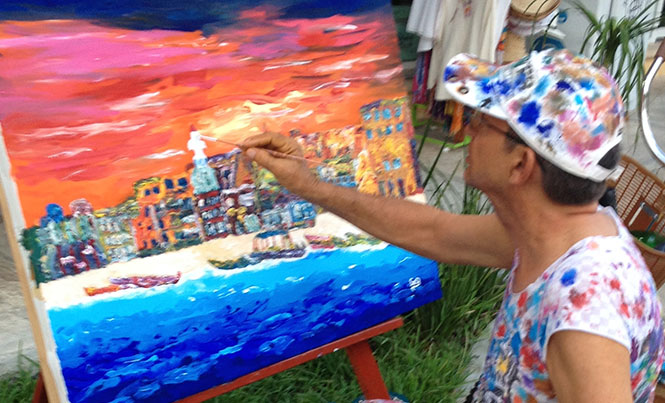 Artist Enrique Sotres has been capturing the essence of Playa for the last 27 years. The quality of his work and the originality of his themes finally paid off allowing him to open his gallery, So3 (pronounced s-o-trace), located on Quinta Avenida between 40th and 42nd.
There are many reasons to buy one of his pieces. In fact, they are not only a decorative piece for your home, but work by Enrique is also increasing in popularity. As a result, his pieces can be an excellent financial investment as the value of his paintings doubled last year.
Sotres imprints originality in the scenes he captures and with his techniques. The artist states, "I use a variety of techniques, but my last one is special. I have not seen anyone else use this technique. For some reason when others ask me what it is called, I just answer 'So3'. It consists of applying thick layers of oil paint and mixing them to produce a rich range of colors".
A few months go, he decided to paint the front of his gallery to create a closer contact with his clients. This attitude of physical and organic closeness made him reject digital means to show and sell his art. "A photograph never looks the same as an original painting. It loses its charm, essence and strength. Digital is good for decorative art and clients who don't have time to lose. They want things fast, even though they also get a strong dose of superficiality. That is why I prefer to deal with customers in person. To sell a lot is not my main goal. Direct contact with them keeps my work alive. This is worth more than money to me. However, if a client wants pictures, I will gladly send them to them."
Enrique frames all his paintings in regional woods, adding to the uniqueness of his work. "Good artwork doesn't need fancy frames. Those are for characterless pieces. Besides, regional precious wood is forever. My gallery is for people who want real art," he commented.
Buyers can rely on the artist's experience to create the right piece for their homes. He will even find the best location in the buyer's home for his artwork if they would like. He places the art for buyers as part of his interest in finding the perfect balance between the piece and its background.
"Some people ask me to explain the meaning of my work. If you stand in front of it in silence, what do you perceive? What do you feel? Art is not meant to be explained. It is meant to be felt," Sotres concluded.