TPT Meets: DJ Kristian Nairn
The Northern Irish DJ might be best known for his role as Hodor on the HBO series, Game of Thrones, however, music is his first love and he will be performing live at The Rave of Thrones event at the Blue Parrot on March 5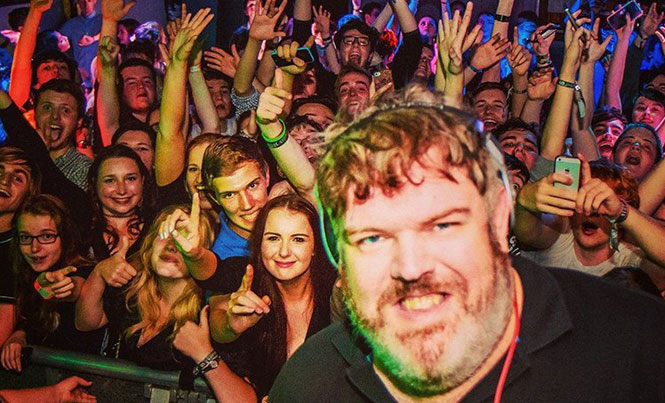 TPT: In other interviews you have mentioned that you have been playing music since you were three years old when your mother enrolled you in piano lessons against your will. What do you think kept you interested in music and kept propelling you forward?
Kristian Nairn: Yes that's true. To be honest I hated it at first.  It felt like a dose of medicine or one of those parent given chores that's "for your own good," but I quickly took to it, and found that it made sense and came naturally to me.  I wasn't ever completely sold on piano though, so that is why I switched to guitar.
You play guitar, sing, and have even played in heavy metal and rock bands. Who were some of your musical influences growing up in Northern Ireland?
I have a strange bunch of influences.  My rock influences are very different from who influences the music I produce and play today, although I wouldn't say that they are completely disconnected.  I always loved the insane guitar riffs and rhythms of Megadeth, the slow stomach churning grind of Obituary , the electronic dark and bleak of Gary Numan , the Rock, with a punk stomp of the Cult .  I loved the quirkiness and raw emotion of Bjork , the classic sound unusual melody and subject matter of Kate Bush, the logic , satisfying resolutions to Bach..  And then there's all the electronic influences.  We could be here all day, but those were the main ones who were a part of my musical upbringing.
EDM has been around a long time but has really exploded over the past decade or so. How do you stay creative and adapt and grow with the EDM scene?
I think it's important to stay true to the sounds that you love.  It's also important to keep the sound fresh and current.  For example, if you are going for an old school sound, I think it's a good idea to use the most current techniques and software to give it a shunt into "now."   That, and don't be afraid to draw on your influences, even if they are in a completely different genre of music.
You have worked with some pretty big names.  Have you worked with any musicians that you have been a bit star struck with when first meeting them?
I definitely have.  I think for the most part that I have managed to keep my composure though.  The last six or so years, have thrust me into many circumstances that I could never believe I would be in, and whilst you learnt how to deal and cope with them, I really do have to take a deep breath sometimes and steady myself !!
Your tour schedule is packed and there seems to be very little time to explore the places you are playing. Will you have any time to explore Playa del Carmen and the region? Is there anything specific you would like to see while you are here?
I have heard so much about the Cenotes, so I will definitely be checking some of them out I hope.  It's true, I seldom get to see anything of the places I go.  I've been to Paris many times, and still I've never seen the Eiffel Tower !!!  
Who are you currently listening to? What is it about them that appeals to you?
As always , I'm listening to a lot of Chvrches , Solvent , Pryda , Guy J, Audio Noir .  I love synth heavy music , with a little element of darkness to it, even if it's in a theatrical way 🙂