Birds, Cold Beers and Long Drives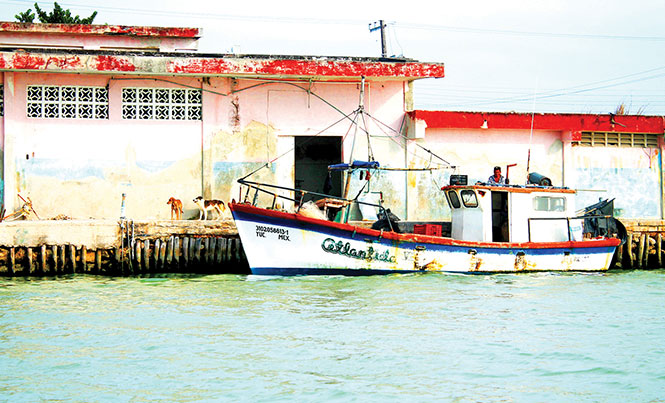 Unfortunately, when you live and work here in the Mexican Caribbean, you don't have as many opportunities to travel as you thought you would when you first arrived. Work and daily life (and lack of a car) sometimes get in the way of your plans to travel the region, at least in my case. When my sisters told me they were coming to visit for the first time, I was so excited because I knew this would be my chance to play tour guide and see more of the Peninsula. I knew I had to plan a lot of activities as my sisters are not the type to sit on the beach all day. One of my sisters is an avid birder whose love of birds has helped fill her passport with stamps from places as far away as Kenya and Papua New Guinea. After a bit research and talking to friends, I decided our first adventure was a day trip to Rio Lagartos to find some birds.
Famous for its flamingos and home to approximately 395 other species of birds, Rio Lagartos is a three-hour drive to the northernmost part of the Yucatan Peninsula. I had never seen flamingos in the wild so I was pretty excited when, armed with my directions from Google Maps, we headed out of Playa on a Monday morning. The drive was easy. We took the new (and expensive) cuota (toll) road. It was three hours exactly, and we had that sensation you get when you go to a new place. It makes the drive there seems endless. By the time we arrived, we were starving. Luckily, I had already found a restaurant on Trip Advisor called Macumba. I saw a motorcycle cop, so I politely asked him where Macumba was. Surprisingly, he told me to follow him, and he drove us through town to the restaurant. Macumba is endearingly kitschy with an amazing staff and cold beers. The menu was what you would expect to find at a restaurant so close to the water, seafood, and I was in heaven. The food was excellent and before the meals they brought out an assortment of snacks and salsas to try. We also ordered beers, and my XX Ambar tasted better than any beer I'd had before. Maybe it was the three-hour drive.
After lunch, we were off to for a four-hour birding boat tour to see the birds on my sister's list. The first stop on the boat trip was to see the flamingos. After the flamingos, we continued the tour through the mangroves, in search of other species of birds. We saw at least 50 species, including a very beautiful tiger heron that Jorge, our guide, found tucked deep into a mangrove, well camouflaged and invisible to someone without a trained eye. Then, after a brief swim in the salt ponds, we headed back to the dock.
The evening drive on 295 back towards Tizmin treated us to beautiful vistas and more birds, including motmots. In one day, I had seen more of the Yucatan Peninsula than I had seen in my three and a half years here. By the time we hit 180 back to Playa, it was dark, we were exhausted, and I just hoped the next five days as a tour guide would be as successful as our first trip to Rio Lagartos.