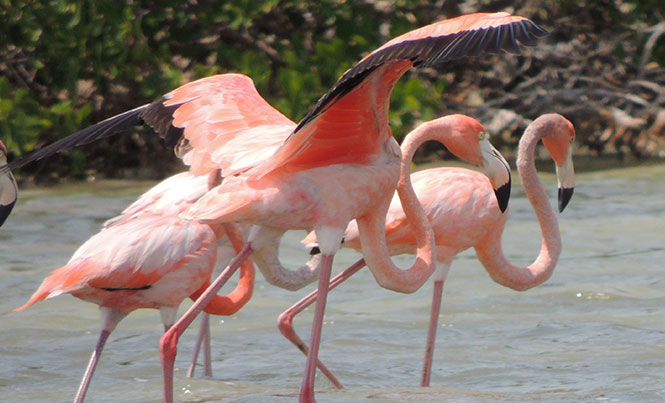 A three-hour drive from Playa del Carmen and situated at the top of the Yucatan Peninsula this bio reserve is home to mangroves, turtles, crocodiles,  and over 395 species of birds, including thousands of flamingos
Rio Lagartos
At the top of the Yucatan Peninsula in the state of Yucatan lies the tiny town of Rio Lagartos. It is a three-hour drive from Playa del Carmen and very easy to find. The town sits in the Rio Lagartos Bio Reserve, and its biggest draw is the birds – especially the flamingos. Rio Lagartos is most popular for its large population of flamingos that gather here and are visible most of the year but their largest flocks are during the breeding season (April, May, and June) when they can be seen in groups of over 1,000 individuals.
There are almost 400 different bird species that can be found in this protected area that includes mangroves, brackish water, and long stretches of beaches. Boat tours are the only way to see the bio-reserve. You can hire a boat from the ones docked along the road that runs along the water or you can make a reservation with a local guide, like Rio Lagartos Adventures.
If you are an avid birder, we would recommend booking with Diego Nuñez from Rio Lagartos Adventures. He provides private birding tours with personalized attention. Diego also offers other options for boat tours, including flamingo boat tours, crocodile night tours, sunset tours, fly fishing, and more. Diego and his guides all speak fluent English. You can find out more about Diego and his guides at www.riolagartosnaturetours.com.
Depending on the tour you choose, your guide will likely bring you to ¨Mexico's Dead Sea¨. This area is made up of rose-colored salt ponds. The microorganisms in the water cause the water to turn pink, and the salt content is incredibly high. Your guide will let you out here to float around and after you will notice how salty your skin is and will even see large salt crystals on your skin (and in your bathing suit). Most of the tours will also take you to the mud baths.
WHERE TO EAT:
We recommend eating at Macumba on Calle 16 which runs along the water.  The menu is typical for a Mexican coastal town – seafood (including shrimp, fish filets, and ceviche) but there are other options like chicken and beef. The food was excellent and inexpensive. The owner and waitstaff are very friendly. The beer is ice cold, and it is a great spot to go to after the three-hour drive from Playa.
HOW TO GET THERE:
Rio Lagartos is a three-hour drive from Playa and is not difficult to find (thank you Google Maps). From Playa, head westbound on Avenida Colosio and the new section of toll road for about 47 km. Merge onto Mexico 180D (Cancun-Kantunil). Then, take the exit for 295 towards Timizin. The road through Timizin is well-marked with signs for Rio Lagartos. Keep following signs for Rio Lagartos.
RECOMMENDATIONS:
Keep an eye out for the rope monkey bridges hanging above the highway when you leave Playa. Maybe you'll spot a black howler or spider monkey sitting in the trees nearby like we did!

Leave Playa with a full tank of gas. There are not many gas stations between Playa and Timizin.

On the way back through Timizin, keep an eye out! The main road you are on will suddenly turn into a one-way street, and you will need to make a left. I found this out when I was suddenly face to face with a large bus!

Bring your bathing suit for the boat tours (and a change of clothes). Also bring sun protection in case you decide to book a boat tour at the docks. Most of the boats didn't have covers to protect you from the sun (Rio Lagartos Adventures´ boats do).