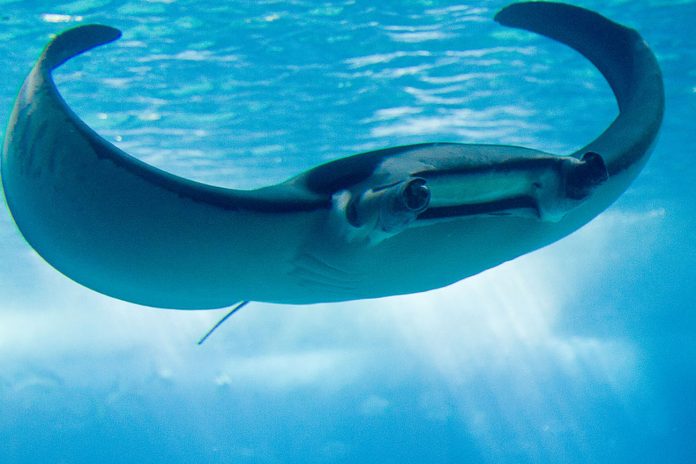 The whale shark season in the Mexican Caribbean is quite famous, and many people come to this area to swim with them. However, most people don't realize there is some other amazing marine fauna that visits our coasts during summer too: the giant mantas!
Mantas are the largest ray in the ocean. They can reach up to seven meters wide, and they are differentiated from other rays by the fins on the head, like horns. Along with sharks and other rays, mantas are part of a group of fish called 'elasmobranch,' which have skeletons made out of cartilage instead of bone. There are a few types of mantas. The biggest one is the 'oceanic manta' called Manta birostris in Latin, and it is the one we find here cruising along with whale sharks.
Surprisingly for many people, mantas have a great economic importance: they are fished, and they are also a tourist attraction in many locations throughout the globe. Given that mantas can only have one pup every one or two years, and it takes them a long time to grow to adults, mantas can't keep up with overfishing and their population has started collapsing all over the world. Up until 2006, mantas were heavily fished in Mexico too, but they are now protected nationally.
Mantaraya-season-2Because of their global economic importance and the vulnerability of their populations, scientists and conservationists are trying to understand and protect these amazing animals all over the world (check out www.mantatrust.org or www.marinemegafauna.org). Here, we have Manta Mexico Caribe, which is an organization run by Karen Fuentes (Manza), that aims to study the mantas visiting the Mexican Caribbean every year to identify threats and raise awareness.
Mantas gather in the same areas as whale sharks in the Mexican Caribbean during summer to feed on tiny animals called plankton. This gives us an incredible opportunity to admire these beautiful creatures! However, while swimming with mantas, it is important to remember not to touch them, as this could be harmful to their skin. Also important is to use biodegradable sunscreen as they gulp the water you are swimming in to eat their tiny prey.
Florencia Cerutti is a marine biologist (Ph.D.) interested in studying rays and sharks to produce information to guide conservation, management and policy. She is the principal scientist at Blue Core A.C.
Mantaraya-season-3