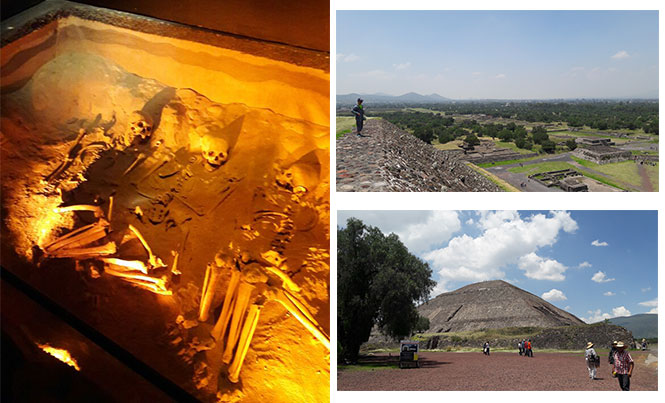 A few months back, I talked about checking off some things on my Mexico bucket list. I was able to check off one more spot in August when I had the opportunity to travel to Mexico City and visit the archaeological site of Teotihuacan. I have had other friends travel to Teotihuacan and seeing their photos always made me want to visit. On the day I went, it was a beautiful sunny day, with a little bit of pollution haze in the distance (Mexico City air is still famously bad). The great thing about Mexico City and central Mexico is that even in August, the temperature is reasonable. I arrived at the site around 11:00 with the sun high in the sky. Unlike Coba, there is very little shade at Teotihuacan. I can't imagine exploring this site with the same heat and humidity we have here. However, my hike around the ruins was enjoyable, and I was able the avoid that melting feeling I have when I visit the Tulum ruins.
My first impression of Teotihuacan was, ¨Wow. It´s huge.¨ Without many trees to speak of, you can see just how large this city was. There are a number of pyramids or temples on the site, including the Pyramid of the Sun, the Pyramid of the Moon, the Citadel and the Temple of Quetzalcoatl. The Pyramid of the Sun is the largest and offers the best views. There are also two very interesting museums located at the site, including the Museo de Sitio that has a  nicely laid out display of artifacts excavated from the site. I will admit, the skeletons were probably the most fascinating to me! They also have an architectural layout of the city as it was during its zenith. Teotihuacan can easily be done in a few hours and as with all the archaeological sites you visit, I would recommend hiring a guide to enhance your experience (yes, they have English speaking guides). You can read my article on Teotihuacan in this edition in ou Discover Mexico section.
Looking for things to do a bit closer to home? Check out our What's On section in the paper or visit www.theplayatimes.com and check out our Discover Mexico section. In Cozumel or heading there from the mainland? Visit our Cozumel Connection pages. Also in this edition, be sure to check out Ashley Campo´s article on Tulum's Best Kept Secret in our Beach Life section. This will be the first of Ashley's articles about Tulum. She will be providing us with an insider's view of Tulum – including places to go, people to see, and things to do.