Ethical Clothing Shops in Cozumel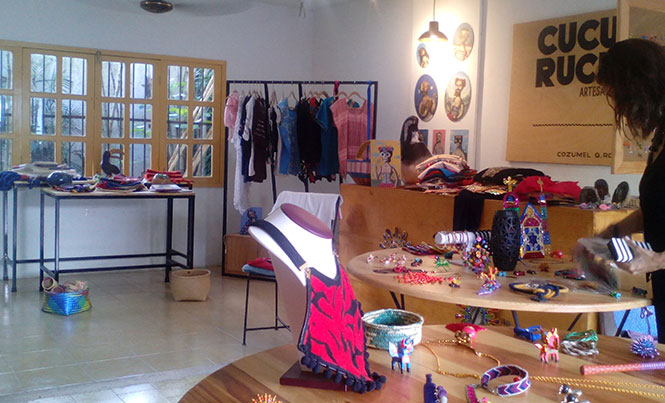 What are you supporting when you buy your clothes? Consider these options the next time you search for a top or T-shirt
Money is an actual vote you can use every time you go shopping. Buying cheap clothes made in sweatshops can be a vote for worker exploitation.
Shopping ethical involves making a connection between what we wear and the people behind it. Buying fairtrade is a vote for human rights and buying locally is a vote to help develop the local development.
There are several ethical clothing businesses operating here in Cozumel. First off is the Boutique and Gallery Cucurucucu on 10th avenue, owned by a young successful Mexican woman named Michele. She explained to me why she decide to open a place like Cucurucucu.
"I love Mexican handcraft. I travel to Oaxaca, Hidalgo, Chiapas and Yucatan every year to bring back the best handmade clothing directly from the producer. Every piece is unique and made by Mexican designers. Traditional Mexican clothing is made of natural materials and more environmentally friendly than mass-produced items ."
Cucurucucu offers a large choice of traditional Mexican clothing and accessories like beautifully decorated tunics with lace, colorful patterns and floral embroidery and very elegant traditional dresses and clothes for children. It the ideal place to buy an original present made by Mexican hands.
What about new Mexican fashion designs?
Vesta_Mx is a very small boutique with a large offering of new Mexican designer clothing, exclusively for women and children. The clothing is elegant and the materials are very good quality. "Everything is made in Mexico and fair trade"
The Boutique named Shalom is owned by Flor May, an incredible Mexican woman who has her own sewing studio behind it. Flor May created her own brand and designs everything herself. I found it a little bit gothic. The material that she uses are very fresh, and perfect for hot weather.
"I design shoes, clothes and accessories and buy the materials in Cancun or Yucatan."
Funky Bazar, another ethical boutique, offers clothing and accessories for men and women. All of them are handmade and fair trade. Finding them is easy, they are inside the Mega Supermarket on the first floor.
Remember that when you use your spending power on buying ethical, fairtrade and local you can help to make a better world.
Cucurucucu. 10th avenue with Rosaldo Salas. Facebook.com/Cucurucucu and cucuruccu.mex@gmail.com.
Shalom. 5av between Rosado Salas and 1st. Facebook/Shalom cozumel
Vesta_Mx. 10 avenue between Juarez and 2nd street. Next to Magenta. Facebook.com/Vesta_mx