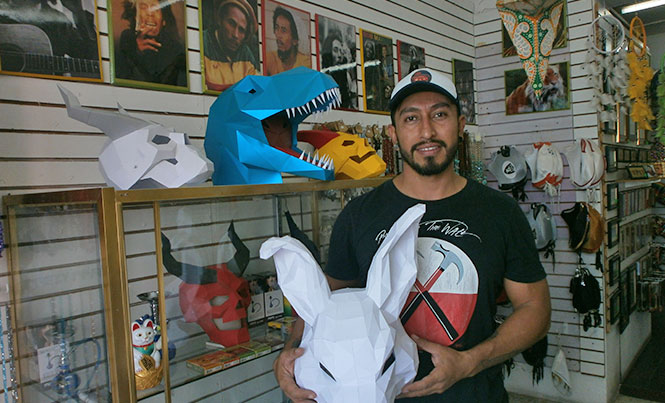 Learn the story behind a new handcraft store in Cozumel
One afternoon in Cozumel, as I was going to buy an ice cream from the Michoacana artisanal ice-cream store, I passed a small jewelry shop. Inside was a man around thirty-five years of age who gave me a welcoming smile. "Are you the person who is making these incredible handmade masks?," I asked. "Yes," he answered. "It is my passion. Come in, I have more models inside." And that is how I met Yahir Larre Guerrero, the paper-mask maker.
Yahir has been living in Cozumel for 15 years, but is originally from Mexico City, and his shop is the family business. Located on 10th Avenue it is named Kisin, which means devil in Mayan.
TPT: Tell me about your store.
Yahir Larre Guerrero: I've been running the store with my wife for a few months. We named the store Kisin because we like how it sounds in Mayan, and also because I like the devil! I sell jewelry, handmade bags, and smoking accessories, like pipes, shishas, rolling paper, and herb cider. So, I am like a little devil here in Cozumel. I was looking for something to represent my store and could not find it, so I decided to create it myself. My first paper mask was a devil, and I quickly realized that I love making masks. Since the first one, I've made more than 10 different masks.
Are you selling the masks, Yahir?
Yes, of course. I also work on request and would like to make more masks. I would love to have an exhibition.
How long does it take you to make one mask?
One to five days. It depends on the models. The dinosaur took me five days to complete.
All of Yahir's masks are representations of the range of human emotions that we tend to hide, and I invite you to visit his store and support a local handcraft business.
Kisin is located on 10th Avenue, between First street and Rosaldo Salas, five minutes from the ferry.
You can also contact him via email: kisincozumel@outlook.com
or visit his Facebook page: Facebook/kisin