People
Life is a Beach for Ginger M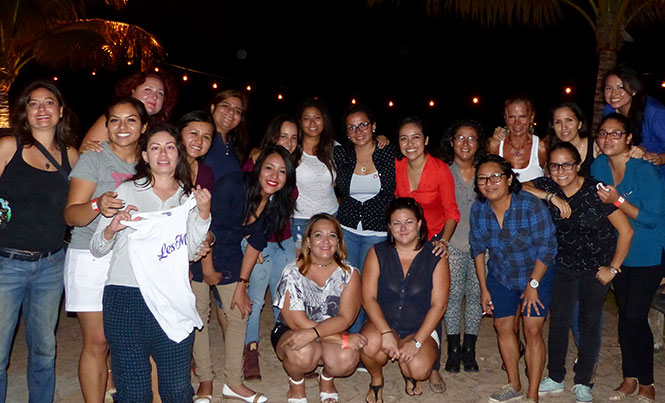 When Ginger noticed the distinct lack of events for lesbians in Playa del Carmen, she didn't just complain about it. She did something about it!
A few months ago, when I was looking for a writer to develop LGBT content for the paper, I had the distinct pleasure of meeting Ginger M. She came to Playa for the first time in 2006 and again in 2009 and 2015. It was on those trips that she realized that there weren't any events geared towards lesbians.
¨I saw events for gays everywhere but nothing for lesbians,¨ she told me. She felt like something was missing, especially coming from Montreal, which offers a huge variety of events and places for the LGBT community. That is why she decided to plan lesbian events when moving to Mexico. Ginger is now involved in different projects and organizations to further develop the LGBT community such as PlayaPride, PlayaAmigable and Fusion G Les.
Her event, LesMex, was created for lesbians, but it is important to note that the group is all-inclusive. "I prefer to use the term, 'sexual diversity', instead of LGBT," Ginger said. "No one is left out – everyone is welcome!"
Their first event was at PG´s Mexican Caribe Bar & Grill on First Avenue and Calle 26 on March 23, 2016. Since then, she has had about two dozen events, many of them at PG´s Mexican Caribe.
The group has grown quickly, with women coming from Cancun, Puerto Morelos, and Playa. She now sees many familiar faces at the events. "We are creating an environment that is safe, where we can be who we are without being judged," Ginger explained. Her observation of Playa is that it is very closeted, especially for lesbians. She has been asked by some women attending the event not to publish pictures of them on social media. She will always respect that because she wants them to have a place or event where they can feel comfortable to be themselves, have fun, and meet other lesbians.
We are creating an environment that is safe, where we can be who we are without being judged"

Ginger Morella

Event planner and media
One thing that is quite evident in our conversation is that Playa del Carmen (and Mexico in general) still has a long way to go in terms of creating a safe environment where sexual diversity is accepted. Ginger explained to me that she doesn't feel as comfortable in public in Playa del Carmen, as she does in other locations, like Montreal. Here, she has received unwanted attention from men, including whistles and comments while simply holding hands, or being affectionate with her girlfriend.
Even though gay marriage is legal in Mexico, conservative religious beliefs still prevail in many families. Ginger met a girl whose family has disowned her for being a lesbian. "Sexual diversity is still taboo in many families, and there is a long way to go," Ginger observes.
In the meantime, Ginger and her group, LesMex, will continue to offer events that allow its sexually diverse followers a safe place to be themselves – whoever that may be.
If you are interested in learning more about sexually diverse events available in the area, please visit Facebook/LesMex or check out http://lifeisabeachprods.weebly.com/about.html.