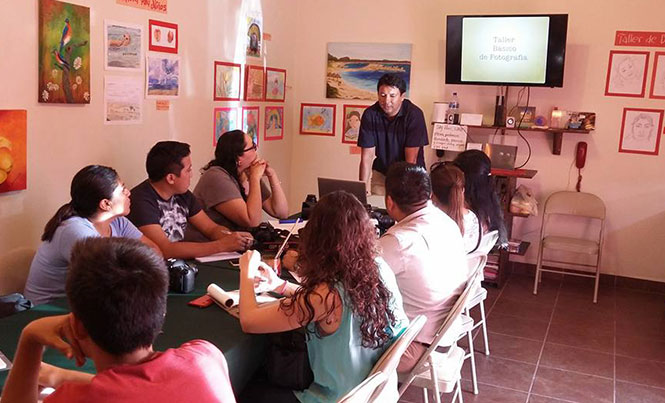 Discover this dynamic space in Cozumel, dedicated to promoting artistic and cultural activities
Promotora Isla Maya is a space for promotion, diffusion and organization of cultural, artistic and general activities. It is located on Avenue 15, No. 473, between 8th and 10th Street North, in Cozumel.
Promotora Isla Maya was created on November 13, 2013, by Liliana Macotela, an independent cultural promoter. She has dedicated more than a decade to cultural promotion in this Mexican Caribbean location. She is now in charge of the project, maintaining a permanent space and program to promote and disseminate artistic and cultural activities. Their aim is to strengthen an appreciation for culture, as well as other themes, and to bring the community closer. They encourage community work, an exchange of ideas and experiences, and promote the artistic and cultural development of the island.
They also have courses, workshops, conferences, seminars, talks, meetings, meditations, cultural gatherings, and film screenings. There are various activities dedicated to art and culture for people who want to learn something new or add to their existing knowledge. Exhibitors can promote almost any activity, art or skill that serves as a tool for personal or business development.
Some courses and workshops that have been offered here include:
Photo Crusaders

Paper Machè Workshop

Aromatic Beverage Workshop

Kitchen Workshop for Kids

Poem Illustration

Pet Craft Workshop

Children's Painting Workshop

Vegetarian Cooking Course

Herbalist Conference

Canning Course

Painting Mandalas on Silk

Natural Therapy at Home

Breaking the Cycle of Pain Workshop

Simple Everyday Herbalism

Cineminuto

Workshop

Drawing Session with Model

Reading and Literary Expression Workshop

Night of Painting and Bohemia

Natural Medicine Conference and Courses

Sahumador

(Censer)

Workshop

Tantric Sessions for Couples

How to Use Photoshop
If you are interested in any of these activities, you can visit their Facebook page: Promotora Isla Maya or phone 01 987 564 8110. You're definitely going to find something that you like.