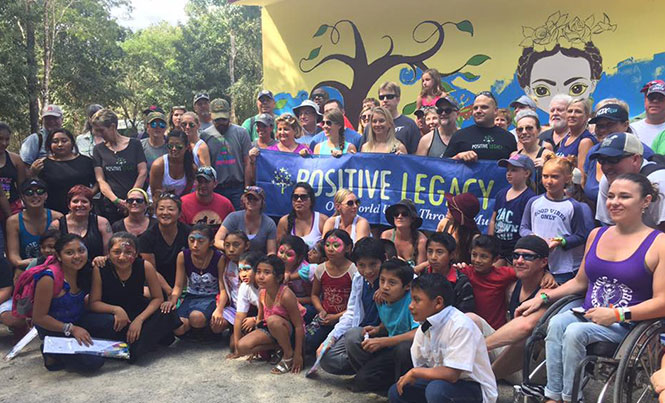 Local organizations unite visitors and indigenous groups for days of shared cultural experiences and volunteer support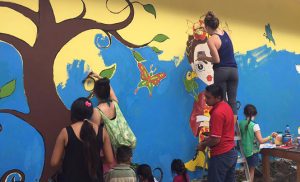 Many residents of Puerto Aventuras have been enjoying the concerts recently held at the Hard Rock Hotel, from bands such as Zac Brown Band and My Morning Jacket. The groups that pay for the packages allowing them to have a personal experience with these bands are also making a huge difference in the indigenous communities of Quintana Roo and the Yucatan.
Through the efforts of Positive Legacy and Dreams for Mayan Children, local Maya communities are getting upgrades for their schools, while sharing their culture with visitors through events called 'Days of Service'.  
This is a day when the group's volunteers take a bus from the Hard Rock Hotel to the community of Dos Palmas. Here the volunteers work on the local school grounds. Many projects occur at once, including painting the classrooms, painting a mural on the side of the school, the removal of rocks for the creation of pathways, the resurrecting of the garden houses, painting of the bathrooms, and repairs to the ball court. The ball court is sacred because the kids are learning to play ancient ball games such as Pok Ta Pok, which is played using the hips to score goals with the balls. An original Pok Ta Pok court can be seen at Chichen Itza.

While the hard work is getting done, the teachers and kids from Xuuxnë music program play percussion instruments to keep the rhythm and flow going. It is a beautiful sight to see Maya children dancing around and playing drums with people from all over the United States. It is an excellent experience for both cultures.
After the work is done, the group is rewarded with a swim in the beautiful Dos Palmas cenote to cool off. This is followed by an authentic Yucatecan meal to nourish them after all their hard work. After eating, the group members enjoy an original deer dance performed by the kids from Campamento Hidalgo, who are bussed in from Punta Laguna, two hours away. The guests get to participate in the dance as well. Finally, they are whisked away to a Maya cleansing ceremony with the local shaman, Freddy, who blesses them before their trip back to the Hard Rock Hotel.
If you would like more information about this program please visit the following pages:
Dreams for Mayan Children – Facebook/@dmc1024
Positive Legacy – Facebook/@positivelegacy
Xuuxnë Oficial – Facebook/@xuuxneoficial
Xuuxnë Comunidad – Facebook/@xuuxnecomunidad