Community
Quintana Roo: Runner-up in Nationwide Soccer Championship
Congratulations to the state team for their impressive showing!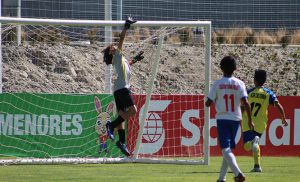 Each year, the Federacion Mexicana de Futbol sponsored by Scotiabank organizes a nationwide tournament of various youth age groups.  Soccer, being Mexico's favorite sport, had tens of thousands of kids participating in this tournament.
Quintana Roo, for the 11 and under age group, first held a statewide tournament where all the cities sent their all-stars to participate. The city of Chetumal came out victorious, allowing their coach the rights to direct and represent the state team. The winning coaches were also allowed to choose talented players from the other cities to create an even stronger state team. In this process, two players from Playa del Carmen, Liam Lloyd and Josue Flores, both 11-year-olds, were selected to participate in the nationwide championship.
On February 20, the week-long tournament started in Toluca, Estado de Mexico, for the clash between 32 states. The teams were divided into eight groups of four teams each, and then the field was reduced to the final 16 teams, of which Quintana Roo advanced to play in these win or die rounds.
Both players from Playa del Carmen had outstanding performances. Liam Lloyd, goalkeeper, had a key play facing a Durango striker in a dangerous one on one. Liam came out aggressively, running to meet the oncoming striker, blocked the goal and allowed the offense time to recuperate and place a goal for the first win in the second round, winning 2-0.  In another match against Coahuila, Josue Flores, defense, executed an amazing shot, scoring a point to lead the team to a 1-0 victory, allowing Quintana Roo to remain among the final four teams.
The games were tough, but the team managed to make it to the final against Baja California, in another intense match which remained scoreless for the first half. In the second half, the Quintanarroenses sought to break the enemy defense line, but the rival responded with the same intensity. With just four minutes left, Baja California put the first and only point on the scoreboard, which left this northern state as the new national champions of Mexico and leaving Quintana Roo in 2nd place on the Scotiabank National Championship 2017.
Congratulations to both local players for their amazing performance!