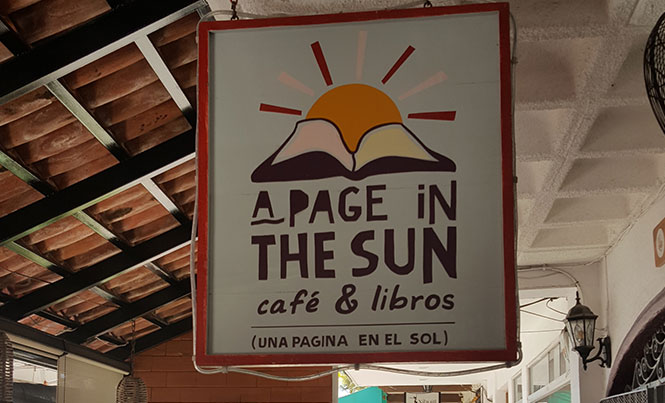 Where coffee and cakes meet books and good company in Puerto Vallarta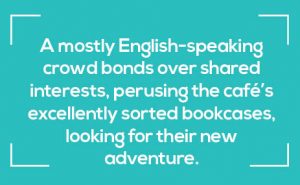 We all have a list of things that we want to see, buy, read. For me, it's a list of books, comprised of recommendations from family, friends and fellow travelers. Being in a Spanish-speaking country makes finding English books (or Dutch for that matter) very difficult. So you can imagine my happiness when I walked into café-bookstore A Page in the Sun for the first time.
Imagine the smell of an old book that has been sitting in storage for ages, and combine that with the aroma of freshly brewed coffee and cakes. Now you have an idea of what it's like to sit inside the store. A picture says more than a thousand words, but the distinctive smell of old paper adds much to the experience of reading.
The shop has a mostly English-speaking crowd that bonds over their shared interests, perusing the café's excellently sorted bookcases looking for their new adventure. It is a welcome change to what you see in cafés nowadays, where asking for the wifi password is the highest priority.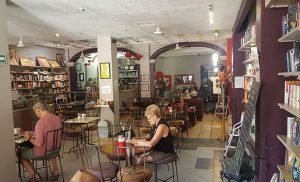 Almost two years ago I walked away with Sara Gruen's Water for Elephants, and since then every visit has given me another book to last me for a while. So whether you are looking for some company, a good book, or for a place to get some work done as a digital nomad, there is something for everyone at 'Page'.
The store is located next to the Parque Lazaro Cardenas, which is really close to the Playa de los Muertos. If you visit on a Saturday, you can combine it with a trip to the farmers market in the park mentioned above. All of their coffee is organically grown and handpicked around the area. They have breakfast and lunch menus with many pastries to choose from, and you can bring in your unwanted books and exchange them for credits to buy more books. A Page in the Sun is open every day from 7 a.m. to 11 p.m.