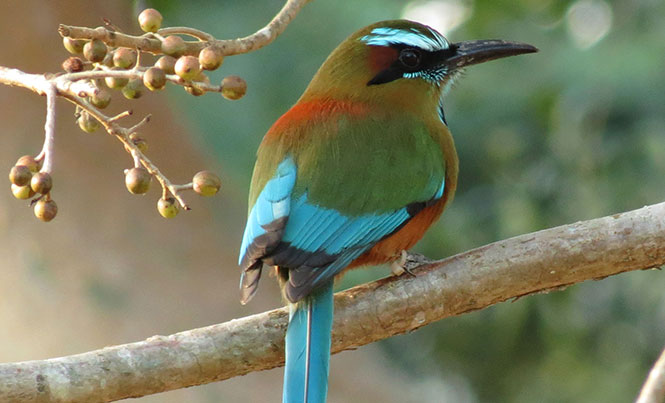 Since the end of March, the talk in our little office has been about how hot it is (and how hot it is going to get). The hot, sunny weather is great for tourists, and while those of us who live here love a nice sunny day, sometimes we need a break.
Two weeks ago, I drove up to Puerto Morelos to visit Reserva TOH. It was a hot day, and I was looking forward to escaping to the jungle for a little while. Reserva TOH is a reserve that is focused on environmental conservation activities. They offer the public many activities that allow them to connect with nature in, well, a natural way. It´s not like the big tour companies that whisk you off in air-conditioned vans and deposit you with hundreds of other tourists in their  ¨eco¨ park. This is a place where you can truly experience the land as it was before tourism was king.
The name Reserva TOH is taken from the Mayan word (toh) for the motmot, a beautiful bird with a long tail. In addition to the two motmot species found here, the reserve is home to about 170 species of birds, many of whom can be seen during Reserva TOH´s guided birdwatching tours. Unsurprisingly, a huge variety of flora and fauna can be found throughout the reserve, including the elusive jaguar – although the staff admits they´ve only seen footprints.
During my visit, I had the pleasure of taking a tour of their small plantation where they are growing a variety of fruits, vegetables, and medicinal plants. I spoke at length with Alfredo Tuyu Pech, who is in charge of the plantation. Originally from Tizimin in the state of Yucatan, Alfredo showed me which plants could be used, following traditional Maya practices, to relieve burns, alleviate headaches, and even to help treat diabetes. He then walked with me to the open cenote describing how they believe a god used to inhabit the area, due to its proximity to the large cenote. I asked if there were aluxes in the area, to which he replied, ¨Of course!¨ He explained they make sure to leave offerings to the aluxes to honor their presence and keep them happy. If you´re not sure what an alux (pronounced aloosh) is, head to our Art & Culture section to learn about this mischievous Maya legend.
Walking through the jungle, enjoying the significantly cooler temperatures thanks to the native trees and plants, it is just the place for an escape from a hot, Playa del Carmen.