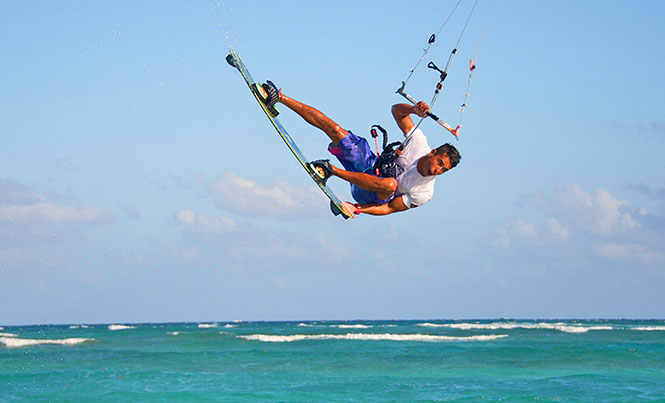 If you are looking for a water activity that is a real challenge, then look no further, but prepare to put in the hours of practice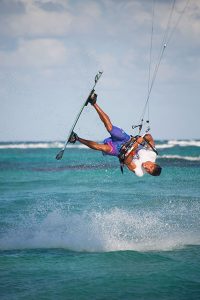 "It's not as easy at is looks.¨ I receive my first bit of advice almost as a warning. I'm about to take my first lesson in kitesurfing, and despite my strong desire to get out on the water, I have to complete the first phase of classes.
I'm standing on the beach of Xpu-ha outside the KSM Beach Club, and my instructor, Adan, is patiently talking me through the basics. I struggle to maintain a good grip on the horizontal bar that controls the kite.
"You're holding it too tight," says Adan. "Don't pull it too fast to one side. Gently, with smaller movements."
Easier said than done, but I relax my grip a little and try to flow with the wind. Now I know why the theory component takes nine hours. Mastery of the wind is the first challenge, never mind standing up on the water.  One regular customer at the school finds it rough going at first. The wind has picked up, and the water is choppy, and he has difficulty getting his kite airborne. When it's up, he is only able to stay on his feet for about two minutes before being put on his backside.
For readers unfamiliar with kite surfing, this extreme sport combines aspects of wakeboarding, snowboarding, surfing, and skateboarding. Gymnastics play a role as well, because when the waves and the wind combine you can lift yourself up and engage in acrobatic displays, pulling moves similar to what you would see in snowboarding. Sergio, a fit and tanned instructor from Mexico City, heads out with his gear to show me how it's done. He looks like he's being towed behind a boat like a water skier. I see him catch a gust of air, then use his upper body to pull himself up and grab the board. On one occasion, he is even able to turn his body upside down before landing cleanly.
Kitesurfing is easier for some than for others. When I complete my theory, I hope to stay on my feet for at least a few minutes.
For those of you interested in taking some kitesurfing lessons, I recommend a visit to KSM Beach Club in Xpu-ha. You can find them online at Facebook/ksmbeachclub/.