A Big Cat in the American Continent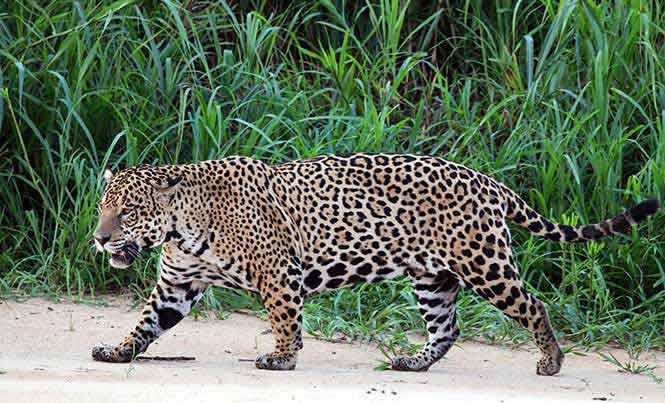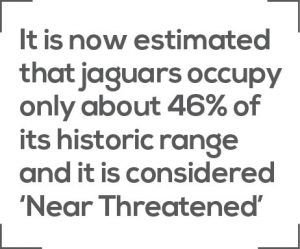 There are 42 known species of cat in the world, and the third largest cat (after the tiger and lion) is historically found in many countries of the Americas. The jaguar ranged from the southwestern US to the Rio Negro in Argentina. They seem to be strongly associated with the presence of water, and their habitat ranges from rainforest to seasonally flooded swamp areas and dry deciduous forest. Although jaguars are thought to be one single species, scientists have found evidence for somewhat isolated groups: Mexico and Guatemala, southern Central America, northern South America, and South America, south of the Amazon River.
Jaguars can weigh between 56 – 96 kg, and body length varies from 1.12 to 1.85 m. They stand 63 to 76 cm tall at the shoulders. They have the shortest tail of any big cat. Their legs are also short but thick and powerful. Females reach sexual maturity at about two years of age, and males at three or four. The gestation period lasts 93 – 105 days and females give birth to two to four cubs who stay with their mother for one to two years. A jaguar´s estimated lifespan in the wild is at around 12–15 years.
Deforestation and fragmentation of forest habitat isolate jaguar populations and are more vulnerable to human persecution. Commercial hunting for their pelts has declined with anti-fur campaigns, but there is still demand for jaguar paws, teeth, and other products. Also, jaguars are often shot as rural human communities invade the forest and get closer to jaguar habitats. It is now estimated that jaguars occupy only about 46% of their historic range and are considered 'Near Threatened' by the International Union for the Conservation of Nature (IUCN).
Jaguars are a key species to look after in our forests; they are top predators and, like all cats, are a keystone species playing an important role in stabilizing ecosystems and regulating populations of its prey. Top predator felids maintain the structural integrity of forest systems. Culturally, jaguars have featured prominently in the mythology of many indigenous cultures of the Americas, including Mayas and Aztecs.