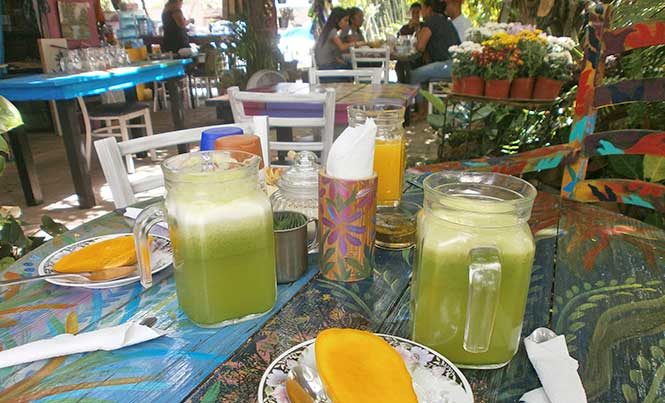 This haven in the center of San Miguel, Cozumel is delighting locals with its natural and artistic treats
There are some lovely hiding places in Cozumel, such as this Garden of Eden in the middle of the town. Located on 25th Avenue and Calle 5, inside Florecita's Vivero, is El Rincon de Addy, meaning "Addy's Retreat." It is an incredible open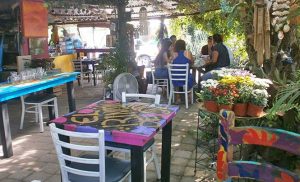 garden space with an art gallery, a shop and the opportunity to learn about medicinal plants.
The owner Addy Bacelis is a painter from Merida and has been living in Cozumel for more than ten years. She shared with us her love for what she does and the special features of her place.
Addy Bacelis
I have three big passions: art, gardening and cooking. My place is an art gallery coffee shop, where you can also buy a plant or a tree. My husband Julian Xacur, who studied agriculture and farming, also shares my passion. We started with the nursery garden in the town, growing medicinal plants, local fruit,  vegetables and flowers. Then, one year ago, with the help of  my daughter Jimena, we opened El Rincon de Addy. As you can see, I love to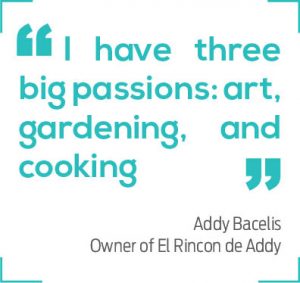 paint on everything; wood, glass, oil painting.
All these tables have been painted by you and now we are having breakfast on one of  them. Your guests are enjoying food, nature and art at the same time, all homemade or homegrown and natural.
I like to offer authentic products directly from the garden, and give advice about the medicinal herbal teas that we make. We have so many medicinal plants in Mexico, so it is a pleasure to teach people about them. If you want a fresh rosemary tea from the garden, you will have it at El Rincon de Addy.
Your menu is fresh and healthy, with a lot of original fruit waters.
Local fruits like yaca, guanabana, papaya, seasonal fruits, all prepared freshly and without sugar. We invite you to drink a fresh water and learn about new flavors and their medicinal properties.
Is everything for sale here?
Yes. We sell plants, plates, cups, tables, chairs. I also work upon request. The dog and the cats are not for sale though!
Open from 8 a.m. – 6 p.m. Monday to Saturday, Sunday 9 a.m. to 2 p.m. Come live the experience of El Rincon de Addy, Calle 5 with Avenue 25. Instagram/@elrincondeaddy
Facebook/El Rincon De Addy