Meet the creators of the innovative boat that will tackle the seaweed problem of the Riviera Maya
In a previous edition of The Playa Times, I introduced you to Denis and Christine Jimenez, residents of Puerto Morelos. In this edition they return with some news about innovations that have been designed to eradicate the seaweed problem here in the Riviera Maya. Denis and Christine tell us in their own words.
We developed the subject in close collaboration with the world's best sargassum seaweed specialist, Brian Lapointe. He has over 35 years' experience in this field and declares that "sargassum strandings cause problems for tourism, and also impact biodiversity, biogeochemical cycling and the habitat of fisheries." These can potentially form "dead zones" (hypoxic or anoxic conditions) in coastal ecosystems such as mangroves."
Removing the sargassum from beaches with heavy machinery destroys sea turtle nests and erodes beaches. It also unintentionally removes tons of sand. It must be refilled to prevent erosion that destroys the coastline. Sand is increasingly scarce, and there is real illegal trafficking of it. It is becoming more expensive than gold. We call it the Sand War. The most ecological way to deal with the invasion of sargassum is to harvest it at sea before it runs aground and dies on the shore line. This produces hydrogen sulphide, which is a very harmful and corrosive gas.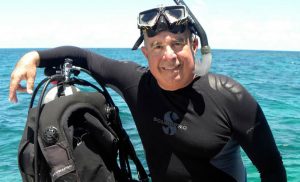 Sargaboat
After several months of research taking into account all parameters, we designed the Sargaboat and the Sargatrailer. It's an innovative catamaran equipped with a treadmill and interchangeable trailers, capable of harvesting floating wastes and sargassum at sea. It is the only boat capable of working along a special blocking net that does not catch marine animals. Seaweed harvested at sea can be dropped farther into the ocean or recycled in various fields. I think biofuel is the best solution. Through theoceancleaner.org, we also propose an innovation to recycle plastic waste. We plan to launch the production of «green» artificial reefs, made of what specialists name "green concrete".
We are trying to introduce the notion of ecology to the nautical market, building a "green" pocket boat with an innovative design, equipped with an electric motor and above all, built largely with jute fiber (burlap). An eco-friendly boat for kids and adults under 5'6″ and under 170 lbs, which is an innovation in this field.