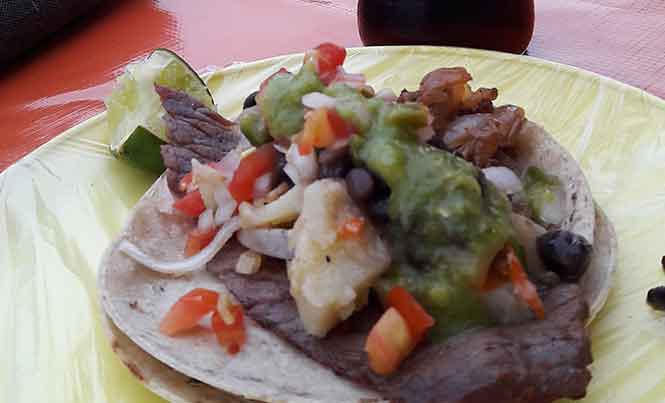 Mexico's most famous food is not only delicious, but a foundation of its culture and cuisine.
When Mexicans have the opportunity to travel to other countries, what we miss the most is our food, in particular tacos and spicy peppers. Similarly, when foreigners visit us, the first thing they want to try is our tacos.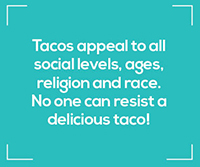 Tacos appeals to all social levels, ages, religion and race. No one can resist a delicious taco! Its unique combination of simple ingredients: a corn tortilla, a stew made of meat or vegetables, accompanied by a sauce made of chile and tomato. You're ready to go!
But how did this delicious combination reach such cultural significance? In past issues, I have spoken about the importance of corn, the foundation of Mexican culture and cuisine since the Mesoamerican era to the present day. Beyond its nutritional contribution, corn is a symbolic element of the Mexico itself.
The most common way to eat a it is with a tortilla, which has fed kings and peasants since pre-Hispanic times. It addition, it was used both then and now as a spoon.
During the time of the viceroyalty, indians, and mestizos of lower classes ate in the markets or in the outskirts with indigenous women selling their products. They sat crouched on the street, with stew served on top of their tortillas.
During the revolution, the soldaderas (women in the military) made tortillas that fed all the combatants who fought in the battles. They used tortilla as both food and dish, extremely practical in times of war.
A simple tortilla with beans and a jalapeno chile makes for a great taco, but there is a great variety available:
tacos dorados,

with potato or chicken inside of a rolled tortilla that is fried in oil

tacos sudados

(steamed) with beans, potatoes or fried pork rind and green sauce

tacos made of stews which are generally eaten in the morning or during a great

taquiza

(a taco party)

the most well-known and acclaimed in the

taquerias

at night: steak tacos, chorizo or

al pastor,

served with onion and cilantro.
In the Yucatan area, the most common are tacos made with cochinita (pork) and served with red onion, as well as codzitos, which are tacos without filling that are covered with sauce and cheese.
Are you hungry yet? Go out and enjoy some tacos today!